Saturday, August 31, 2002 Influential Music
Inspired by my friend Rob, I thought I would mention some of my earliest musical influences. He and Dave have added some of theirs to their blogs, but I held back for fear of what I might end up dredging from the memory banks. As Rob has mentioned Bucks Fizz and I am aware of Dave's Streisand and Carpenters fetish(behind that punk facade), I felt I could venture forth, publish and be damned. I won't mention the Barry Manilow single of "Lets Hang On" that I bought in WHSmith, Ormskirk in 1982 with £2 my mum had just given me because she thought I was going to buy Dave Stewart and Barbara Gaskin's 'Its My Party(and I'll cry if I want to)'. The look on her face when I got back to her with the offending article has stayed with me till this day, 20 years later. I felt so guilty, even though amends were made, Christmas that year, when I purchased one of those awful late 70's/early 80's K-Tel or Ronco TV albums that contained the Stewart/Gaskin track. She was pleased. Anyway...........

I HAVE managed to think of some crytically acclaimed and not-so-embarrassing influences on my musical taste buds from my youth and in no particular order:



Depeche Mode - Construction Time Again : At the time I thought that this was their best album yet. Listening back, it was a bit of a diversion for them and the start of that industrial sound but it was not a very accomplished album to be honest. Much better was to come from them. Saw them in Chicago in June 2001. Awesome. Best Album: Without a doubt, 'Violator'.



Japan - Tin Drum : HOW cheated did I feel, when Japan finally made it to our village, just in time for me to hear they'd split up?! I purchased all their albums in the end, or at least had them taped off my mate, Ian, and though I still defend Tin Drum to (a really big Sylvian fan) Rob, he is right to think it was not their best. Best Album: 'Gentlemen Take Polaroids'.



Duran Duran - Duran Duran : I'm afraid so. I'm a child of the early 80's and there was none better than Duran at the time. Was 'Rio' better? Maybe, but the recent re-issue of the first album with 'Is There Something I Should Know?' added, justifies me dredging up the past and I was there from here.



Aztec Camera - High Land, Hard Rain : eeeee, the memories of getting onto a train from Ormskirk to go into the big city of Liverpool to do some shoppin' and look in awe at the skyscrapers.....OK, but I was a village boy awestruck at anything over 5 floors. Our new town centre shopping complex built in the early 70's was space age to me!.....I purchased Roddy Frame's debut album at the old Virgin store in Liverpool's Central Station and looked at the cover and sleeve notes lovingly on the way home. Best Album: Probably this, though 'Love' had some good stuff on it that saw them hit the big time, for a short time. Roddy has a new solo album out, 'Surf', wonder if I can blag a copy.



a-ha - Take On Me : A single. Some would say an embarrassing single to list. Not me though. I was there from the beginning. I admit I love a good piece of Pop Music and Paul Waaktaar, the main songwriter in a-ha wrote some of the best pop songs performed by a group who all played their own instruments, of the 80's. The 90's have seen the whole group, not just Paul, mature into great songwriters, to the point where their 2 'comeback' albums knock the socks off all previous releases. Most annoyed I missed out on seeing them at the Royal Albert Hall earlier this year, but £150 for 2 tickets was stretching it a little. Still, we are off to Wembley in October and taking Martin along for his birthday(The title track of their latest album, 'Lifelines' made Martin cry when he heard it and I think its the best song they've ever recorded). Seek out those last 2 albums, 'Minor Earth, Major Sky' and 'Lifelines' for satisfying, melodic, Scandinavian Rock&Pop.



Pet Shop Boys - Please : Classic with a capital C, debut album from my other all time favourite band. Not their best, but quite possibly the best debut ever. I have practically everything they've ever released, singles and albums and on most formats, though I decided to calm it down a little in recent years. Though their new album, 'Release', isn't a patch on their previous, 'Nightlife', its got some winner tracks on it, as all their albums always have. Best Albums: 'Introspective', 'Behaviour' and 'Very'.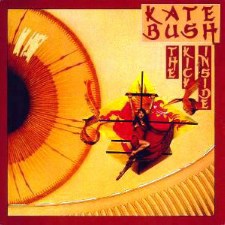 Kate Bush - The Kick Inside : Oh look, another Classic with a capital C debut. I'm sure there will be another album out ...in the next ten years, but I'm also sure it will be worth the wait. It always is. Best Album: 'Hounds of Love'



OMD - Architecture & Morality : My third favourite band. Came to them late, well, 4 albums in, but this was so stunning to me and really set me on that electronic path and maybe even influenced my sexuality(if such a thing could happen!). Another group where every album was a must-buy on day of release. Best albums: 'Architecture...', 'Sugar Tax' and 'Crush'.



Eurythmics - Be Yourself Tonight : Their best but by no means my first purchase. Did they lose it in the end. Well, I didn't buy their recent comeback, though it had a couple of great tracks. maybe it'll grow on me, but an example of someone who maybe should have let sleeping dogs lie, though I was one of the biggest voices clambering for them to get back together. It obviously doesn't always work out.



Deacon Blue - Raintown : Don't care what anyone says, they had their time and they struck a nerve. A massive worldwide hit with their next album, 'When the World Knows Your Name', which was also an excellent album, but 'Raintown' is so beautiful and takes me back to Newcastle in the late 80's. Memories were made of this. (Though admitedly I've never owned a ship called 'Dignity' or any other name, and I've never fancied licking 'Chocolate' off any 'Girl').



David Bowie - Lets Dance : I admit it. I've said it before. I'm a child of the 80's and this was the first time I really had a chance to investigate Bowie. 1980's 'Scary Monsters' quickly followed 'Lets Dance' into my collection and then lead me onto earlier albums. If it were not for Nile Rodgers launching him onto worldwide commercial success, I may never have discovered 'Scary..', 'Hunky Dory', 'Ziggy', 'Young Americans', 'Station to Station'........and now, the best album since 1983 and to be compared to those earlier classics, 2002's 'Heathen'.



New Order - Low Life : Its better than 'Power, Corruption & Lies', but maybe not as good as 1993's 'Republic' where awesome, polished production finally complimented(or is that, 'drowned out'?) Bernard's vocals. New album 'Get Ready', I love.



Simple Minds - Once Upon a Time : Awesome stadium rock of the best/worst kind. All 8 tracks are brilliant and should have been singles. The fact that 5 of them were, somewhere in the world is testament to this. Broke them in America and backed up what I'd been saying since 'New Gold Dream'(again, I was late to them, I admit it - but returned to their earlier material), that they should be heard by a larger audience. OK, Jim Kerr can be a pompous ass, but even their new album has some great songs on it.

I've mentioned Bruce before, but, really, he wasn't a big influence. Nice to see him return with a classic album though. No time to mention my previous fascinations with Men At Work(for 5 minutes in 1983), INXS, Spandau Ballet, Hall & Oates(they were great at Newcastle City Hall in 1990 and I swear to this day, John Oates kept winking at me!), The Eagles, Streisand, Def Leppard, Bryan Adams, Wilson Phillips, 1980's American AOR in general and the 90's work of the Swedish pop maestro's 'Cheiron'. So I won't. posted by Darren | 6:32 PM
---
Transport Issues
There was nearly a revolt on the Victoria Line on Friday morning. The usual train did not leave the platform first at Walthamstow Central, with no announcement made. Some were furious, particularly a lady next to me who quite frankly could have walked half way to work by the time the train left, as she only needed to go to Seven Sisiters(Probably why she was annoyed then, Darren!). This made me late for work by a couple of minutes. Not a great problem but I like to maintain standards, don't 'cha know.

Dirty-Stop-Out Hygiene Issues
Due to washing my hands vigorously last night and even more so this morning, and giving my head and face a good scrub, I don't smell too much of beer, fags and kebab. The kebab was a result of the beer, which was the result of going out with Richard for the first time in ages and then meeting up with Dave and Lucio at The Retro Bar to see Dawn lay down some punk tunes at the DIY DJ night. Dave's an old punk rock fan. Had a laff and it was nice to see Dawn and the previously mentione Mrs Julie Newsam, who regaled us with stories of her recent wedding(reminding us that we never have to go through this trauma, with family feuds developing over whether mother should wear a croissage or not) and tits, one of her and her husbands favourite subjects. As I say, much fun was had.

Evening In
Friday at work, though, I just thought of getting home to Dave and our bed sooner rather than later. I was also looking forward to watching Friends for the first time in years. Well, Brad Pitt is in it. Should make for interesting viewing, though his timing is a little off I'd heard. His timing WAS a little off but the man CAN act, no, really. It was OK but that sums the show up. "OK". I won't be re-tuning in regularly.

Current Viewing Habits
TV that I AM still tuned into regularly(apart from the aforementioned "The Bill"(just at the moment)) is 'Six Feet Under'. Good news last week was that the Second Season of "Six Feet" would begin on E4 the Monday after the First Season finishes on Channel4. Hurrah! I don't actually live for TV, but it is a medium I love when it hits the spot. This show hits the spot. I URGE everyone to watch this programme and marvel at the writing. I need these kind of shows in my life. One other of this type, though the writing is not as good, is '24' and this is now over, until the New Year. Thanks to the writers and producers for not copping out in the final episode though.

Lowest common denominator television, the kind of thing that fascinates the nation, the kind of thing you are glued to like a road crash. Now that Big Brother is over, I thought we had something to fill the void, for a couple of weeks at least, but "Help! I'm a Celebrity, Get Me Out of Here!" has not lived up to expectations. Unsurprising when the celbrities don't even match up to the c status of last years Celebrity Big Brother, with the likes of Darren Day, Tara Palmer-TossPot, Tony Blackburn and Uri Fucking Geller let loose in the "jungle" of Queensland, Australia. Only the miserable Rhona Cameron is providing the entertainment at the moment by having a go at practically everyone in the group, with her most vehement attacks of course being reserved for God fearing, homo-hating, fag-bashing Nigel Benn. Christine Hamilton and, actually, Tara P-T have also shown more sympathetic sides to their characters I had not seen before. Maybe they aren't all bad after all. I have started to miss huge chunks of the programme after less than a week and will probably not see it through to the grisly end next weekend. And who thought that Ant & Dec may have outlived their welcome, together on screen, on national TV? Its true, some faces really do have a Sell-By Date on them and as (the previously horny) Ant McPartlin heads towards his late twenties, its become all too apparent that his face has seen better days. (As you can see from my photo on the left, I am maturing nicely into my early(sic)-thirties - hahaha!).

Weekend Leisure Time
Well, its the weekend. Dave has spent the morning on the PlayStation 2 that we bought last night on our way home from work, playing 'Medal of Honor' and doing quite nicely, thank you; and I have completed my latest pulp novel, thats completed 'reading' it and not completed 'writing' it(though that WAS one of my ambitions - maybe more on that another time). 'Sidetracked' by Henning Mankell, a Swedish crime-thriller writer, translated into English - Martin gave me 2 of his books that were given to him by the 'Book buyer' at our place of work. I recommend him(the writer) to anyone interested in this kind of thing. A new hero in the middle-aged detective, Kurt Wallender.

Other than reading, mourning the departure of "24", lusting after Scott Neal in "The Bill"(though his character is turning into a real c**t) and waiting with baited breath for each new episode of 'Six Feet Under', Dave and I have been rekindling our interest in cinema. We "haven't been out much" of late to be honest, but managed to see Almodavar's new film, 'Talk to Her' last week. Very good. Fine film and includes a sexy 42 year old Argentine actor who I shall be looking out for elsewhere(Dario Grandinetti). Has made many Spanish language films.

Saturday lunchtime - now for Fish n Chips with Lucio.

My Friend Richard - Previously Mentioned but Never Seen
Just before I head off, my friend Richard has been bugging me to publish a photo of him and his boyfriend Chris, out camping, which is their favourite past-time, so here they are, in all their glory.

posted by Darren | 11:27 AM
---


Wednesday, August 28, 2002 Richard asked me the other day, "You coming out for lunch with Hugo and me? Sex shop shopping........his first time........perfect opportunity to see him get embarrassed!" Richard took Hugo, who works with us, down to Soho for some light relief at lunchtime, Hugo's first trip to a Sex Shop to look at luscious ladies and buxom bosoms on video. Unfortunately Hugo acted quite maturely and Richard was very dissappointed.

The turn of events was surprising as Hugo is still a bit of a public schoolboy even though he is about 27 now. The way he acts sometimes, one wonders if he has had any experience of a real lady. Bless. I hope he has or does soon, though I dread him acting anymore happier than he acts already - always full of beans and joviality to the point were most just want to strangle him. He's a nice bloke though, really.




The main thing occupying my nights in the last week is, I am sorry to say, The Bill. PC Luke Ashton(played by the fucking gorgeous Scott Neal) is being a bit of a bastard to Sgt Craig Gilmore(played by the attractive-from-some-angles, Hywel Simons). After snogging Craig last Thursday, Luke got cold feet and immediately jumped into bed with some blonde slag WPC who's name I forget(hahaha). He seems very enamoured with Craig when Craig is sticking up for him or being nice to him and no-one else is around, then is a bastard when the slag turns up or Craig gets too heavy. A lesson, possibly, to be learnt here, Craig. Think about it.

NB: Dave prefers Hywel to Scott. No taste. Then again, we DO live together.
posted by Darren | 8:50 PM
---


Tuesday, August 27, 2002 Our friend Richard has an unhealthy obsession with Ethan Frome. I don't know if it is because he is a fan of early 20th Century Literature or not, but I sincerely doubt it. He is more likely to be reading this kind of thing than anything else. My theory as to why he keeps using the term is that he "likes the sound" or he has picked it up by seeing it on the bookshelf at his boyfriend, Chris's house. posted by Darren | 10:01 PM
---
Julie Newsam(neé Fowler)(who used to work alongside me and now works for the international arm of my company), who went to USA for her honeymoon recently, sent over some Peppermint Patties for the dept. Hhhhmmmm, low fat too!

posted by Darren | 9:45 PM
---


Sunday, August 25, 2002 I keep thinking about what Lucio had to do the other night and just cannot believe it. He had an altercation with a car while on his motorbike. Ended up in Whipps Cross Hospital with fractured arm and broken leg. As part of the aftermath of road traffic accidents(RTA is the term used in the "business", I believe), the injured parties have to present certain bits of info at the police station. They must produce it themselves, in person. Lucio was given crutches by the hospital but they were the wrong type for his type of injury, ie. useless. He gave them back at his first check-up. So, its difficult for him to get about at the moment, meaning it was very difficult for him to attend the police station. To add to all this difficulty(Dave and I took him in our car), we had to wait in the smallest waiting room I have ever had the misfortune to wait in, which, in itself would not be too much of a hardship, but for the fact that an inebriated bloke with tattoos and little capacity for the English Language was also waiting to be seen, so that he could sign his name as part of his bail conditions. Add an old age pensioner couple who were also waiting to present insurance documents, looking terrified at the rants of this drunken lout and you have an uncomfortable scene in a room barely fit for a gathering of 2 people, never mind 6.
My main concern here is that people just needing to present insurance docs because of an RTA should not have to go to a police station and stand amongst CRIMS and be forced to wait to see a girl who cannot even tell what his first name is(its quite exotic, but not THAT exotic!). He has not committed a crime! Its not on!
I thank you.
Signing off: Disgusted of North East London. I'll be speaking to my Lib Dem Councillors(who I DIDN'T vote for) about this!
What if he had been REALLY incapacitated?
posted by Darren | 9:39 AM
---


Tuesday, August 13, 2002 New Blog Alert


My friend Rob(above) started a blog recently. His musings on life, addressed to "Those Wonderful People, Out There in the Dark" are well worth a look and can be found at robroxytrek60.blogspot.com.
Please take a look. posted by Darren | 8:53 PM
---
á Paris
Dave and I went to Paris last weekend. It was my birthday(35, no, really) and it was his gift to me. You can read all about it at spellcnut.blogspot.com. He really has been an inspiration to me and our friend Rob(more on him above) and has attracted the attention of other renowned bloggers, such as Naked Blog and Troubled Diva, who has given him a resounding thumbs up with comments such as "It's fresh, unpredictable, and doesn't follow all the usual rules. And it's always interesting. So there." Take a look.

But before you do that, take a look at some images from a lovely weekend.


posted by Darren | 8:42 PM
---
Yee Haww!

Former pop idol Adam Ant has admitted threatening pub customers who made fun of his "cowboy" clothes.
The 1980s star appeared at the Old Bailey on Tuesday under his real name Stuart Goddard, and pleaded guilty to affray.
The charge related to an incident at a north London pub on 12 January in which revellers were threatened after making fun of his appearance, the court heard.
Pub customers started humming the theme from the spaghetti western The Good, The Bad and The Ugly, when he walked in wearing a combat jacket and matching flat cap, the court heard at an earlier hearing.
After hearing the jokes, he left and returned armed with a starting pistol, the court had heard.
Goddard said the pistol belonged to his father and was a wartime heirloom.
David Tomlinson, prosecuting, had previously told the court that the defendant threw a heavy car alternator, which he found in the street, through the pub window.

Now, I was never the biggest Adam and the Ants fan, but I quite liked Ant Rap. Time to Ant Wrap it up, Stuart and grow the fuck up. It must be awful being a Has Been. Is it really better to be a "Never Has Been"? Maybe on this occassion.



posted by Darren | 8:30 PM
---


Tuesday, August 06, 2002

Controversial(in some quarters) statement coming up here: The new Bruce Springsteen album, "The Rising" is excellent. Though I have not purchased a Springsteen album since "Born in the USA" in 1985(and the only other one I owned was "The River" from 1980. They were both on Vinyl - remember that old format??), working in "The Business", I have got to hear them all and he really lost his way after the success of "Born in the USA". Now, mercifully back with the E Street Band, there's still some life in the old dog yet. The media and the Springsteen camp themselves are really playing on this being a tribute to the heroes and victims of the terrorist attacks on September 11th 2001. Taking it out of that context still makes a great album. He's found his voice and his sense of melody again.

There! My first statement about music and I set the tone for everyone thinking I am a Bruce Freak and into Country&Western maybe, or at least definitely American Rock. In some respects I am a big fan of AOR, Adult -or- American, but it certainly isn't the whole story. I'm sure my favourites and some old favourites(when they fall from grace) will get mentions in the future. posted by Darren | 12:13 PM
---
The Tale of a Sunday Afternoon at The Mela and drinks under the Gazebo for the very last time
Taking a little step back(I DID say it would be in no discernible order), Dave & I, and our best friends, Rob and Lucio all went to The Mela, an Asian Festival at a local Park on Sunday 28th July.

It was really just a collection of stalls selling food and clothing, a funfair which consisted of a handful of kiddie rides, a stage/DJ and the largest collection of Bouncy Castles(and the like) we had ever seen in one place. We had Indian Ice Cream, called Kufti, which Dave was praising, but which didn't pass the taste-test. Lucio gave me his as it was too creamy - he's lactose-intolerant and I dread to think what would happen if he'd eaten the lot. I had visions of him going into a coma, though I'm sure he'd probably just throw up. I threw his away and barely finished mine. We had food under the shade of some big trees and generally LETCHED at the men. Other gay men seemed to congregate around us under the trees so it became like a Pink Corner of the park from where we could watch the men wander by. It was INCREDIBLY HOT and following this little jaunt, we returned to our garden for beers, spritzers, vodka & coke(the drink) under the Gazebo, for what would be the last time in its current incarnation(for more on this, see the previous entry, below), before we attempt to carry out repairs using a bit of dowling and maybe some of that sticky back plastic mentioned earlier. I'll say Sellotape from now on - this isn't Blue Peter for godsake.

posted by Darren | 12:07 PM
---
The Tale of the Gazebo
The day after our Kiki&Herb trip, it rained heavily. It's now Tuesday August 6th and hasn't really stopped between then and now. On Wednesday 31st July, though, Dave and I woke to disaster in our garden. In May, anticipating the summer to come(BBQ's, friends round for Pimms, etc) we had bought a Gazebo at a local (dis)reputable hardware/DIY chain. We didn't have the opportunity to erect it until early July when it really did seem like the summer was about to kick in. As I mention below, Summer 2002 lasted about 4 days. Anyway, the heavy rain took its toll on the Gazebo and the mess we looked upon on the morning of the 31st was a sight to behold. Our previously sexy and stylish Gazebo lay battered, bruised and totally wrecked upon the lawn. Its 4 legs had all buckled under the weight of the water that had soaked the canopy and then pooled in the fabric of the roof.

Cheap Tatt. We truly are Northern. Dave made me smile though when he sent me an e:mail at work saying, "eeeeeeeeeeeeee our poor gazebo". I suggested, "I'm sure we can fix it with sticky back plastic". If only. We had a few weeks out of it, though the real hot weather was only a few days.

On the subject of work, I also made this entry on e:mail on Weds 31st July: "The bitch has already pissed me off this morning. Does she never have anything positive to say?". You can see that I may not be entirely happy with my current work set-up.


posted by Darren | 11:45 AM
---

The Tale of Kiki, Herb & THAT Kitchen Table
On Monday 29th July, Dave and I went to the Theatre(darling) with our friend Martin. It was the Soho Theatre, only been open a year and we were so glad of the Air Con as London was sweltering in 4 days of Summer. The act we had the pleasure of seeing was Kiki & Herb. They were real good. Really mad. I think you would like them. Lots of comedy/talking in between songs. The songs were cleverly chosen to reflect the story being told. It was amusing to hear this and the way the songs were interpreted. Real surprise was Kate Bush's "Moments of Pleasure", possibly my favourite track of hers. But others like Radiohead, Pat Benatar, Bonnie Tyler, Patti Smith, David Bowie.........stuff you would not expect to hear from an act considered to be "drag", were all interpreted in an unusual and manic way.
The problem was, of course, the time they were coming on - 9.30pm and finishing work at 5.30pm. Now, I love Dave's company, I really do, and we had some lovely food in Won Keis and a shandy or 2 outside Comptons looking at the boys, meeting
Martin there at about 7.45pm, but I was so knackered from no sleep the night before that I was so glad of a seat in the theatre bar when we met up with Derek(who has lost soooooo much weight in the last few months - WeightWatchers - I'm very proud and hope to emulate him) and Ashley. As I said, the theatre had air con(THANK THE LORD!!!) and the bench seating was cushioned, with totally uninterrupted views down to the stage, so it was comfortable too.

I also got to hear some gossip from one of our Friends tonight about his and his (recent) ex's current set-up. Ex slapped Friend's face last week during an argument, so Friend threw (yes, THREW) the kitchen table at him! Its not a small table, apparently! Ex not taking it as well as Friend. I thought it was a mutual separation after about 7 years but it turns out it was more Friend's idea than Ex's. Memo to Ex: "Try being more friendly to Friend's friends and get out once in a while!". The kitchen table incident brought back so many memories of Wimbledon for Martin and I. Martin's 2 tour de force(s) were breaking my nose (I exaggerate - it was just bloodied, I deserved it, I laffed as the blood poured out, he got more upset than I and, quite frankly, I deserved it!) and throwing my mobile phone(this was what I had way back in the late 1990's) into the loo. I stupidly left it at home. He saw it as a symbol of my infidelity and when he couldn't break the code, which was incidentally his birth date, he threw it down the bog. Thought I saw something when I came home and started to pee, I was right.

Anyway, Kiki & Herb are highly recommended by all of us and Martin and I are now becoming firm friends, which is what I hoped for all along and is as it should be.

posted by Darren | 11:31 AM
---

Apologies for my Tardiness
Well, I managed to NOT post anything to my new Blog for the whole of the month of July. A number of reasons for this, the main one being I'M A LAZY GIT! I have thought of it often, though, and aim to put this right. We'll see.

Well, in the interim, Brazil won the World Cup, deservedly so, I suppose. Kate won Big Brother(more on that below), Manchester hosted the Commonwealth Games and, though, there was some glorious sunshine, the majority of the time the city lived up to its reputation as one of the wettest places in Britain. England won over 50 Gold Medals - whats THAT all about? Have we suddenly become very good at Sport or was the competition not up to much? A test this week will be the European Athletics Championships in Munich were, I feel, we will meet tougher opposition. Anyway, moving on, a few thoughts from the last few weeks of non-Blogging will appear below and above in no discerning order. First up, the spunky delivery man I had to 'help' with the delivery of a very heavy object at my place of work:

The delivery man with the blondish/ginger spiky hair was right up Dave's alley. About 6ft 2inches, heavily built, slight tummy with a lovely smattering of hair, (nice smooth arse crack tho, which I got lots of looks at as they were manoeuvering the safe from the lorry, into the lift and round to its final resting place on the third floor). Oh how we laffed, got a bit of a rapport going, but thats quite easy to do with the less educated, don't you find?

That being sorted, I went for my walk to Boots Opticians on Regent Street. What a pokey little hole with f**k all choice. If I wanted to wear something that would make me look like Deirdre Barlow's mother in Coronation Street, this would be the place to go. I had gone cos someone in my office recommended it. I must try one of the other central London addresses Dave obtained for me. Then went to Boots on Piccadilly Circus and bought some Natural Medium Brown "stuff", to go with the Natural Dark Brown-Black "stuff" I already have. Bumped into Martin outside Head Office on my way back in and as I was walking up he had this quizzical look on his face and he said "Have you dyed your beard?". So!!! I've got to try this slightly lighter shade! Yes, thats what the "stuff" is. I wouldn't contemplate dyeing my hair. Well, I don't think I would, but the old goatee has really taken a battering from the grey brigade over the last couple of years, to the point where I was starting to look like Santa! I didn't like it, so I changed it, thats all there is to it. Some of the lads at work, though, noticed when I first did it(they started calling me Black Beard. Funny, they don't even work in my specific office. Those who do didn't even notice), as I had used too dark a shade. The shade matched the hair on my head but not on my chin. Don't you often find that? A friend of ours is called "Ginger" and "Ginga" but its only his sideburns and beard that are remotely ginger, sort of á la Tim from Big Brother(another reason I haven't found time to keep the blog up to date - Big Brother. It got me hooked early on this year, something it had not done in the previous two years. I'll say no more on the subject other than: I was very glad Jade did not win - loud, rude, annoying, thick, just horrible; Alex really let himself down in the final 3 weeks. He could have won it had he not alligned himself with Tim and become prissy and above everyone.; I was glad it came down to Kate and Jonny. Either could have won and I'd have been happy. Both genuine people.).

Dave had a boring trip to the FCO. One of the downsides of the job, some may say, perks, is meeting foreign 'dignatries'. I'm sure he is very good at it, though he does not brag.


posted by Darren | 11:04 AM
---