Monday, September 30, 2002 Perfect Rock & Pop versus Mediocre Third Major Feature Film




Go buy Suede's new album, "a new morning". Immediate Suede classics on the new album are "Positivity", "Obsessions" and "Beautiful Loser". Get in quick for the Limited Edition run in the UK featuring 2 extra bonus tracks and another album of material from the sessions for this album, accessible when you load the disc into your CD Rom Drive.




Go see M. Night Shyamalan's latest film, "Signs", starring that old homophobe, Mel Gibson, if you've REALLY nothing better to do. I think Night think's he is Hitchcock, making cameo appearances in all his movies, but this movie lacks suspense and tension and I think he may be wearing the shoes of another dead film maker, Orson Welles, as he gets more mediocre with each film.

Still, its Monday night, which can only mean rounding the evening off on a high with Series 2 of "Six Feet Under" on E4. Sheer poetry. Congratulations to Alan Ball for his Emmy for Direction, but it was a travesty they were beaten out by West Wing for most other prizes, though I'll forgive Stockard Channing her win. She can do no wrong. posted by Darren | 8:52 PM
---


Sunday, September 29, 2002


Bond, Madonna Bond

Thanks to Keithers for pointing me in the right direction to hear a snippet of Madonna's new Bond Theme, Die Another Day. Collaborating with French producer, Mirwais once more, its obviously not a radical departure from the 'Music' album, but sounds like a welcome addition to both her repertoire and to the Bond Theme stable.

Countdown is also still progressing, "Uno, Dos, Tres, Quattro...."....the new Suede album, 'New Morning' is released tomorrow. You can find me in HMV on Oxford Street at 12 noon tomorrow, pawing the CD and then walking towards the counter in awe of their genius.

Suede and blogging should get me through the next 5 days, as Dave is going to see his parents in Northumberland for a couple of days, then going west to Blackpool to look at houses for our retirement.(We are only in our thirties but there's no harm in planning ahead!). While he is away, I'll take my chance to see 'Signs' with Martin on Monday night, another distraction from his absence.

Hurry back, babe. posted by Darren | 9:57 PM
---
The "Scene"

I think my patience may finally have run out with the local gay scene here in North East London. Never a haven for homosexual activity, this part of London has, nevertheless, always had its fair share of bars and (shall we say) places of interest. But last nights experience at Central Station in Walthamstow may have been the nail in the coffin. Not that it was any worse than countless other nights there, but maybe my brain has had its fill, maybe I've reached a plateau. It was crowded, the drag act was mediocre and the volume negated any chance of having a conversation with anyone. This resulted in the 2 biggest party animals amongst us(and incidentally, the oldest) Lucio and Tom, leaving after about 90 minutes. Dave would have had Martin and I leave with him about 2 hours in, but by this time Crystal Wade had started her previously mentioned mediocre act and I thought it best we stay, partly because Martin had come up from Brixton(South London) to stay for the weekend and our plan all week had been to go there on Saturday night. The other reason was that there are no other gay bars within spitting distance of Walthamstow(since the 'Angel' had closed a few weeks previously - and anyway that had changed its name to the 'Fallen Angel' a few months prior to that and was less a bar than a 2 floor dark room with a very sleazy and ugly clientele(no personal experience, just hearsay)) and it was after midnight. We saw out the act and made a hasty retreat. Maybe, never to return.




Still, "Road to Perdition" at the local Russian-run cinema was beautiful to look at and listen to. Tom Hanks was good in a departure for him. The boy who played his son(Tyler Hoechlin), though, blew him away. posted by Darren | 9:29 PM
---


Saturday, September 28, 2002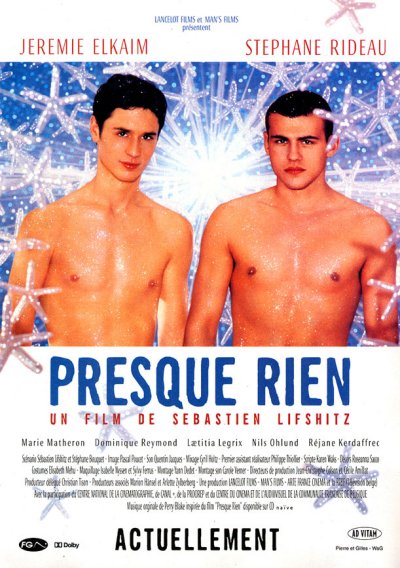 Presque Rien

Hello! Been waiting for 'Presque Rien' to appear in the Sale at HMV for months and finally this week it does. Couldn't wait to get it home and pop it on.

Not dissappointed.

Stephane Rideau and Jeremie Elkaim play 2 young men in love. Never a bad starting point. Of course, its a European film, so its not all plain sailing.

Beautiful nonetheless, particularly Stephane. Must hunt down his other films, which you can find a list of at his website(above).





posted by Darren | 3:26 PM
---


Thursday, September 26, 2002


Comments Box

Am I clever?

Well, maybe, but whatever, I feel very proud to have set up a comments system, courtesy of Haloscan, without much involvement from Dave, but thanks anyway Dave!

I must now go and sate my appetite for real life crime programmes by taking in my monthly fix of Crimewatch UK. posted by Darren | 8:16 PM
---


Wednesday, September 25, 2002


Metro Area
From one little article in Sleazenation magazine, picked up by Dave cos he was bored the other day, can't remember why now, maybe it was when he went to the seaside with work colleagues last week, yeah that was it.....errr, anyway, from one little article in there, I've suddenly got a fascination with Metro Area, 2 guys from the New York...yep...Metro Area, who have been DJ'ing together for a few years and are now finally getting their first album release next month. Other than this, I know very little about them. I'm wondering my motives though. Is it that amongst their influences, they list Depeche Mode, or is it because I like the sound of their name and of their most widely heard track to date, "Atmospherique"? When I say the sound of that track, I mean the sound of the word Atmospherique, as I have not actually heard it yet, or, indeed anything by them.




I must continue my search......though in the meantime, if anyone wants to e:mail me........I might even have some comments boxes on here by the end of the weekend...such a lazy git.
posted by Darren | 9:28 PM
---


Tuesday, September 24, 2002


The Return of Suede

At last! I've had to wait since 1999 for the new album and now we are only hours away. Monday 30th sees the release of "New Morning", Suede's brand new album("London Suede" to any Yanks out there(apologies to any Southern brothers reading)). From what I've heard on the web, its well worth the wait. You can check it out at their website(link above). Though on an economy drive, I can surely be allowed to purchase the new album by one of my favourite bands? Please!!

posted by Darren | 10:24 PM
---


Sunday, September 22, 2002


Sunday in The Park With George...or a trip to the East End with Dave & Rob to look at Tat.

Up at an ungodly hour(9am) to go to Brick Lane to look at Eastern European refugees selling and browsing for tat. Then onto the designer outlets of Brick Lane, coffee at 'coffee@brick lane' and the more upmarket downmarket side of the East End that is Spitalfields Market. Your better class of tat here. Oh yes. I found a very rare(in Britain) vinyl album, of which I will say no more, as its going to be a gift for a friend, maybe for Christmas, or maybe before, on the spare of the moment, I haven't decided yet. Rob bought a Nolan Sisters LP....oh, OK, it wasn't the Nolans, it was a Sheila Chandra CD, her from Monsoon, takes him back to his youth. Dave bought a 1978 Shoot! annual. He's going to sell it on e-bay for ....more than that. posted by Darren | 7:49 PM
---


Thursday, September 19, 2002


At last the Special Edition DVD's of Jackie Brown and Pulp Fiction are out. Unfortunately, this co-incides with my decision to clear off all my debts before I go on another holiday...well, after New York in October, anyway!

Does anyone agree with me that JB is a far better film than PF? I know that they are so comparable and in some respects can be considered the same film. Because of this, I think either could have been made before the other, but maybe I prefer JB because it is a move on from Tarantino's earlier films, though still derivative....

Or maybe its because I'm a big girls blouse and I love a female heroine! Go Jackie, Go Jackie!!! Yeah, that must be it.

Then again, Bruce Willis gets his bits out in Pulp Fiction......



posted by Darren | 8:26 PM
---


Tuesday, September 17, 2002


The logo is there in lieu of finding a photo of the very sexy model in the latest GAP ad to grace British TV Screens. He's dressed quite scruffily(it costs a fortune to dress in GAP and look scruffy you know) and is dancin' around, all manic-like. Don't know the bloody tune either, so not much help to myself am I? The thing is, he's not my usual type, he's a bit Nate Fisher(and David Fisher has been my favourite since I first set eyes on "Six Feet Under"). Maybe the endless minutes that Nate seems to spend in every episode with at least his top off, or at the very least, in his sweaty running gear, has finally gotten through to me and I am turning to the slim-but-firm-and-with-a-little-stubble side.

Whatever, he is VERY sexy.




By the way, check out U2's next single, "Electrical Storm", from their upcoming "Best Of 1990-2000" album, on VH1.com. Its good and I expect it to be a grower. I think this album is going to annoy me though. I hate it when there is a compilation of Singles from a favourite group of mine and they fail to include ALL singles. this is a "Best Of", of course, and technically, I suppose, does not purport to include all their singles. First word is that it ain't gonna include "Walk On", which wasn't initially a single in the UK, but WAS abroad and IS excellent(You can hear it on U2.com). Eventually released here in November 2001, so PUT IT ON THE ALBUM!

The current reported US track listing is, according to Interscope:

"Even Better Than the Real Thing"
"Mysterious Ways"
"Beautiful Day"
"Electrical Storm" (William Orbit Mix)
"One"
"Miss Sarajevo"
"Stay (Faraway, So Close!)"
"Stuck in a Moment You Can't Get Out Of"
"Gone"
"Until the End of the World"
"The Hands That Built America"
"Discotheque"
"Hold Me, Thrill Me, Kiss Me, Kill Me"
"Staring at the Sun"
"Numb"
"The First Time"

The Best of the B-Sides track list(an extra disk on initial copies, like the previous Best Of), according to Interscope:

"Lady With the Spinning Head" (Extended Dance Mix)
"Dirty Day" (Junk Day Mix)
"Electrical Storm"
"Summer Rain"
"North & South of the River"
"Your Blue Room"
"Happiness Is a Warm Gun" (The Gun Mix)
"Salome" (Zooromancer Mix)
"Even Better Than the Real Thing" (Perfecto Mix)
"Numb" (Give Me Some More Dignity Mix)
"Mysterious Ways" (Solar Plexus Club Mix)
"If God Will Send His Angels" (Big Yam Mix)
"Lemon" (Jeep Mix)
"Discotheque" (Hexidecimal Mix)
posted by Darren | 9:24 PM
---


Katrin Cartlidge She's on the right, above.

Was shocked to hear of her death last weekend. Another blogger mentioned it first, just looked again but can't find who or remember who it was. Dave got me onto her, his particular favourite performance being in Mike Leigh's 1997 "Career Girls", a film that is not as stark as some of his others and by the end quite up-lifting. Her performance in this film really is that cliched 'tour de force'. Quite remarkable and a great loss. All along, though, she was Lucy from Brookside starting out in 1982. I had been a fan of Brookie in the early days, being from near that part of the world and during my teenage anarchist period, when watching Channel 4 programmes in that channel's infancy was as radical as it got in our household and in that town. Little was I to know how her career and life would progress.

Mike Leigh says of her:

"I adored her twinkling anarchy".

I love this quote and really sums her up for me. In addition, though, he goes on to say,

"During a Sarajevo trip, we attended a reception given in our honour by the British ambassador in the garden of his official residence. From time to time, as we chatted with various film-makers and diplomats and their wives, I would catch sight of Katrin giving me a naughty conspiratorial anti-establishment wink, as if she was about to perform some dastardly republican deed".

Something sad beneath the surface of that manic exterior obviously lurked, though it was always covered with high spirits and, I thought, high hopes(no pun intended). I'll miss her future performances more than I thought I ever would. posted by Darren | 8:29 PM
---


Monday, September 16, 2002


LOTR
Aaaaaaaaaahhhhhhhhhhhh, 'Lord of the Rings'. Marvellous. Watched it again recently, on DVD of course. Beautiful SFX. You can tell wobbly old Gandalf is CGI as he stumbles thru the Caves of Moria but the battle scenes, few & far between in this first movie, still blow me away. More to come in 'The Two Towers', as there are in Star Wars Episode III, as the Clone Wars get into full swing in the next installment. 2005!! Can I wait THAT long?

Having said that, Martin and I were saying the other day, we can't remember very much from 'Attack of the Clones'. We only saw it once, Dave & I seeing it at the Gaumont, Disneyland Paris...."daaaahhhhlingg!!". Version Originale of course, Subtitles and everything. Massive screen, hardly anyone in there but a mad scrum to get in due to the French dubbed versions being on in at least 2 other screens and all starting round the same time. I know the French are known for some things(cowardice, uncleanliness, THINKING they're better than than the English while the English KNOW they are better than the French...but enough of this, I subscribe to none of this rhetoric), but I didn't think disorganisation was one of them. Quite quite dangerous it was in there. A young child could easily have been trampled. Not that there's anything wrong in that.

Anyway, more of Dominic Monaghan in 'The Two Towers' please! (I'm sure Dave would demand more of Sean Astin!!........and I wouldn't object).


posted by Darren | 6:35 PM
---


Sunday, September 15, 2002


September 11

gay11.com has some heart breaking stories of some of the gay and lesbian victims of 9/11. Brings home again the human toll.

bentkid put me onto this.

Then when the flame forked like a sudden path
I gasped and stumbled, and was less.
Density pulsing upward, gauze of ash,
Dear light along the way to nothingness,
What could be made of you but light, and this?

-James Merrill

That'll do, that'll do.


posted by Darren | 7:16 PM
---


Monday, September 09, 2002

Cobwebs
Wonderful weekend getting pissed at the local dump of a gay bar, watching foreign films('Together' and 'Sur mes Levres') and driving to Skegness with Dave and Martin, to ride 2 of Europe's newest and record breaking roller coasters. Clears the cobwebs indeed. posted by Darren | 7:50 PM
---


Thursday, September 05, 2002

Minty Fresh
On a more frivolous, but some would say just as important, note, one must always strive to keep ones ass minty fresh. Find out how here. posted by Darren | 7:43 PM
---


Wednesday, September 04, 2002


God Bless America
9/11 will soon be upon us and the documentaries have started to appear thick and fast. I am glued. I can't help it. Still shocking a year later. We visited the Wapping Project gallery at Wapping Hydraulic Power Station(Wapping Wall, London E1W 3ST) recently to see an exhibition of Magnum images from that day, blown up to enormous size. A video also played in the old coal bunker, a very dark and claustrophobic space. Images shot by one cameraman on the day. It ends as the second building comes down. Very moving.

My first visit to New York only came last November. Years of being scared of the Subway and being mugged at gunpoint meant that somewhere I longed to visit always seemed out of reach. More fool me. Its safer than London. We will be back there in October, with Rob joining us. Lets hope that there will be no more atrocities and that any response beyond what has happened in Afghanistan this year will be a measured one. Its not looking good at the moment.

posted by Darren | 9:40 PM
---


Tuesday, September 03, 2002


'Insomnia' was fantastic.




'Six Feet Under' was fantastic.




Work was a pain on Monday.

... as all my hard work over the last few weeks was pissed on. I'm just trying to ensure our dept continues to run smoothly. You'd think they'd be grateful after all the trouble I've caused them over the last 2 years.

Anyway, as 2 nights at the pub in 3 days continued to take its toll, the cinema was all I could manage on Monday night. Go see Insomnia, PLEASE! You'll thank me. As well as Pacino, Williams and the under-used Swank, you get to look at one of the deputies, but for all too little time. Now for 4 nights in, at my desk and in front of the box.

Gearing up for Sunday when we may attempt to ride this and this in Skegness. Clears the cobwebs, believe me. Our first Coasters since Germany in June. Dave is suffering from severe withdrawal symptoms.

Theme Parks visited so far this year, though, are:

Universal's Islands of Adventure - Florida
Walt Disney World - Florida
EPCOT - Florida
Busch Gardens - Florida
Disneyland Paris
Walt Disney Studios Paris
Alton Towers
Blackpool Pleasure Beach
Holiday Park - Germany
Europa Park - Germany

Are we mad?

posted by Darren | 9:04 PM
---


Sunday, September 01, 2002 Last night, Dave, Lucio and I ended up at 'Central Station', Walthamstow. Sandra, the black, err, sorry, "Coco Latte", drag queen was on. Quite good, a bit un-pc in places but she gets away with it. Could this be because of the color of her skin? Probably, as some of the jokes are racist/anti-black. Her "Whitney Houston doing 'Its not Right, but its Okay' while coked up to the eye balls" is very amusing. I got very very very drunk and we got to bed at about 3am! And at our age!

I got talking to a 25 year old lad who was there with his lesbian sister and her girlfriend. He had only been out for 3 weeks and this was his first experience of drag in a gay bar . The coming out process started 3 weeks ago when he told his girlfriend of 3 and a half years he was gay, she didn't take it too well(well, who would? Would she start questioning whether he originally started going out with her because of her broad shoulders, can he see a slight moustache on her top lip?), but she is coming to terms with it and they are trying to remain friends. His sister told him to get his ass down to her house in Walthamstow asap so they could talk about things and she could take him out on "the scene". He seemed real level headed about things. So much different than in "our day". We wanted to make him feel at ease with coming out because we didn't always have a friendly face back then, but in the end I don't think he really needed it. Of course he started asking about Lucio.....and Lucio HAD mentioned him earlier that evening before we started talking to him. Lucio turned him down and went home alone. Could this be the beginnings of Love for Lucio and his long-distance lover, Andy? I hope so. Lucio would never admit it of course.

Now, I've just got to deal with the aftermath of drinking so much, even at my age.

Looking forward to seeing 'Insomnia' this week, the new Christopher Nolan(Memento)-directed Al Pacino movie, co-starring Robin Williams, Hilary Swank and Maura Tierney(from E.R.). I love a thriller and as I've had trouble sleeping this year, apt.

Its the last episode of 'Six Feet Under' tomorrow(did I mention this already?), so looking forward to this and, in a different kind of way, looking forward to all the tribute programmes as we approach September 11th.
posted by Darren | 2:12 PM
---