Wednesday, October 30, 2002 Its not even January...

...and there's a sense of doom in the air. Or should that be "gloom"? Feel a bit down at the moment. Is it the jetlag, coming back to work from holiday, work being quite intense this week and continuing to be so for a couple of weeks ahead, not forgetting Christmas, our busiest time, Dave going to Uzbekistan next week for 4 or 5 days on business, or the fact I seem to have misplaced(read, "lost") the Manic Street Preachers Greatest Hits Remix CD I've had for less than 2 weeks? Or all of that?

The weather suddenly turns milder again, prompting people to be irritated on the Tube, as they've piled on their winter woolies, only to be faced with soaring temperatures underground, as well as at work. Annoying woman barged past 3 seated people(including me) tonight, stepping on the lady next to me and banging my knee quite hard, without a word of apology and all in aid of making it to the next section of the car to get the last remaining seat before anyone got on at the station we were pulling into. She heard our wrath, but walked on oblivious. Bitch. It takes not much effort to be nice and a hell of a lot more effort to be ignorant.

Its Halloween tomorrow.




We Brits seem to gradually be getting into the swing of it like our American cousins. Another tradition slowly but surely eroding into the British resolve to only celebrate Christmas, Easter and those godawful Bank Holidays when it invariably rains, and if it doesn't it just means lengthy tailbacks of traffic to the coast, for what little glimpse of ocean and sand we are allowed each year due to our glorious maritime climate, just a little too far north for most of our liking. In New York last week, wherever you went, there were Pumpkins, Jack O'Lanterns, Witches Hats and spooky goblins & goings on. Another capitalist consumerist ploy to make us spend more money? Definitely, but theres something to be said for having our lives slightly controlled and cajoled into enjoying ourselves when we are told to. Thats... "something". Understand, I am not whole heartedly endorsing this way of life(and I know Dave irrefutably rejects it), but I like the feeling in the air as the nights draw in, the ghouls and ghosties close in and we head towards Christmas, quite possibly my favourite time of year. posted by Darren | 9:35 PM
---


Tuesday, October 29, 2002 zzzzzzzzzz...II.......

I think the jet lag has caught up with me. Slept real well over the weekend, so it could just be the redecorating on Sunday that has made the greatest contribution to my legs aching and me wanting to go to bed at 9pm, while Dave repaints the Pewter living room....white...which is what it was before we started on Sunday. Doh! posted by Darren | 9:33 PM
---


Monday, October 28, 2002


zzzzzzzzzz.........

Work....schmerk......hundreds of e:mails, which normally isn't a problem. Makes for quite an easy day on the first day back from holiday, but when I've so much to do this week and in the next few weeks, it wasn't helpful. They must all be checked as well, just in case I miss something important. Like not wanting to miss a thing, miss out on any gossip, that kind of thing, it pervades through into work e:mail as well as personal. I was glad to hear that they had an awful week without me. Richard, in particular always seems to get away with missing the really really hectic times, due to days off or holidays, so that was a taste of it Rich! (Just joking. You know I'm sorry it was so bad).

Still, lets forget about that and remember the good times. Dave may now hate the Pewter color of the living room/lounge/backroom, but a few B&W photos of the New York skyline might change his mind. That, and refusing to help repaint it might just work. (He may have a point when he says its like sitting in an oven). So, we'll definitely have to sit in the oven tonight when we watch Six Feet Under, following last night's excellent episode. Keith and David are on the verge of getting back together and I love it! (And Dave hates it. So, Keith's an overbearing, Christian do-gooder homosexual, but he's a sexy guy with it and such a kind heart (hurl!!), and though Dave thinks David looks a bit like Frankenstein, there is still something more about him than Nate, his brother. Come on Boys...Get It Onnnn...!!!!). Some take things a little too far, though. (OK! OK! So I read it!).





The Sopranos was also excellent last night even though it was a quiet introduction to Season 4 and not a patch on some previous episodes. I've heard its not exactly a taste of things to come, and that this is a positive thing, ie. it gets better still. I look forward to it!
posted by Darren | 7:29 PM
---


Sunday, October 27, 2002 A Day of (un)Rest

I thought we'd spend the weekend recovering from our New York holiday. In the main, I suppose we have, only getting up at lunchtime on Saturday(following a few drinks down at the local gay bar and watching a holiday purchase - Sandra Bernhard's DVD - "I'm Still Here, Dammit!"), but we suddenly decided to redecorate the house, so it was off to B&Q on Saturday afternoon, followed by Dave painting the bathroom until about 3am while I watched another holiday purchase - George Sluizer's(original version of) - The Vanishing. Very disturbing. Up late on Sunday then, to tackle the living room/lounge/back room(ooo-err). They call it Pewter. It now resembles a prison cell.

We love it.

Must bathe and rest up for tonights TV catch-up session, with Second Chance Sunday on E4: 'Six Feet Under' continues followed by 'The Sopranos' premier episode of the New Season. Fantastic.
posted by Darren | 6:17 PM
---


Friday, October 25, 2002


TWTWTW

Well, we're back. And its raining. An American annoyed me at Heathrow by saying to his companion(well, I say "companion", but it became clear they had only met on the flight, he was chancing his luck and she couldn't wait to head to the toilet the first chance she got, so she could ditch him), "How ironic, its sunny in London". It doesn't rain all year round you know! Its f***ing snowing in Wyoming right now for f***s sake! Anyway, its all a bit embarrassing and typical, as after the hour long Tube journey from Heathrow to North East London, we emerged to ... rain and typically grey skies. Oh well. We'd miss it if it was sunny all the time. No, really.

Its great to be back. Flight home was approx. 6 hours - other than Concorde, thats about as quick as you can fly from New York to London. Reached over 700mph with the Gulf Stream tail wind pushing us along. Thank you, American Airlines, for great service once again. We really do recommend them. Dave and I had a great time showing Rob the city for the first time. I wish we had had more time in the last few weeks to really plan the trip more, but work commitments really bogged us down. In the end, then, we just bimbled about with half hearted plans each day. Not that this was a problem though. We took in the obligatory Empire State Building(sunset on Monday evening, nice), Circle Line Tour(did the semi circle tour, where you sail round the southern tip of Manhattan and get up close & personal with the Statue of Liberty. She's still closed to visitors, though you can go to the island, so, seeing her from the boat, real close is as good if not better than stepping onto Liberty Island), Ground Zero(very moving, with the viewing area and information that is now posted there making it more so. Impromptu memorials of shirts, flags, posters and all manner of other materials still exist, at the church opposite and also across from St Vincents hospital in Greenwich Village. As I say, very moving), Central Park(you can read about the Halloween show for kids here, that is being staged at the Belvedere Castle in the park. They were rehearsing when we were there. I had seen some people walk through the rehearsal before we went up into the castle to look at the view from atop there, so when we came back down, I strode across the rehearsal area, only to be stopped by one of the assistants. As we made our way round to the side of the rehearsal to use the steps down from the castle, a fat American woman said (audibly) under her breath, "Walk through the production why don'tch ya", I said "Fuck off you fat bitch!". Was this too strong?), Fifth Avenue shopping & sightseeing(Tiffany, Rockefeller Center etc), strolling round Greenwich Village and having a few drinks at the Stonewall Bar. Plus the not-so-obligatory, but interesting none-the-less: Broadway Show(our first)(we were very lucky to get tickets for Hairspray on the Tuesday night, ground floor centre, fantastic. Harvey Fierstein was great as was the rest of the cast, particularly Jackie Hoffman, whose mouth must be the biggest on any woman in showbiz... EVER! Very funny), Guggenheim Museum(great building, I mean, GREAT building(tho a little rough at the edges), but not a patch on the Tate Modern in London), Museum of Sex(bit of a rip-off at $17), eating in diners, watching life in Chelsea(both in coffee shops(The Big Cup) and bars(Barracuda, View, G, XL)) go by and generally having a laff at the world, mainly with the word of the holiday, which turned out to be "Bummers!". Luckily, Americans wouldn't normally have a clue what we meant by that. Certainly not this...




Oh, and we did a little shopping! Some great designer bargains at Century 21. Dave nearly bought an Alexander McQueen parka. V.nice but a little too big. The exchange rate isn't what it once was, but the bargains are still out there to be found. After searching round for a certain pair of Skechers shoes(OK! OK!, just because the sexy lad on the top balcony of the Guggenheim was wearing them, I admit it!), I decided they looked cheap and as all my friends know, I don't DO cheap, so I went for the Camper's instead. Similar look, but as Dave loved pointing out, the Camper's didn't have the orthopaedic-look that the Skechers had. Both HMV on 42nd Street and on Broadway had the pleasure of our company, as did Virgin on Times Square. We LOVE DVD and CD. We really do. A bonus in HMV Broadway on Sunday afternoon was bumping into an old friend, Maria. I used to share a house with her in Leeds, Rob used to work near to her when Maria was in Birmingham(thats the original Birmingham, in England. Not Birmingham, Alabama). It was great to see her and for Dave and her to meet. She took us for a few beers at an Irish pub called Connelly's near Times Square, where we met a friend of hers called Brian. We liked his forearms! We can be shallow when we want to be. We got very drunk.

We didn't see Barbra, Billy, or Woody. We did see him, though, staying at our hotel.
posted by Darren | 2:31 PM
---


Friday, October 18, 2002


I'm in a New York State of Mind

We're off to have tea with Billy Joel, go shopping with Barbra and hang out at Woody Allen's local jazz haunt with the great man himself.

Look after the dog would you?
posted by Darren | 10:24 PM
---


Thursday, October 17, 2002


Scotland the not-so-Brave

Their full of it now aren't they? Those Scots who chose to move south to the English capital, but still take pleasure in our footballing misery, every opportunity they get, had a field day today, after the dismal performance against Macedonia last night(Safe Hands Seaman? Slip-up Seaman would be one of the more polite suggestions for renaming our national goalkeeping treasure). Still, it also comes at a time when Scotland are rampant after defeating those giants of world football, Iceland and Canada, following a dismal start to their European campaign by drawing with lowly Faroe Islands(population, 47,000).

As we have 2 in our dept and others in the same building, its been pretty much unavoidable all day really. Obviously it was to be expected, but I still wonder what drives them to these acts of banal humour every time sassenachs are defeated. Surely 500 years of history can be buried? Being accused of patronising them when you support Scotland against opposition other than England is another common thread to this tale. I suppose it gives them some respite from arguing with each other about the merits of Glasgow Rangers(Protestant) and Glasgow Celtic(Catholic). Religion has a lot to answer for, it really does.

Balls to it all. I'm off to New York on Saturday!




No!!! the REAL New York! Thats supposed to be next Spring!



posted by Darren | 8:15 PM
---


Wednesday, October 16, 2002 Eng-er-land, En-ger-land...errr, maybe not.

England were, quite frankly, abysmal. England 2 - 2 Macedonia. Please.

And now DCI Chandler is about to shoot Debbie, the unborn baby and himself.

What a thoroughly depressing night. Works gonna be intense for 2 days(did I mention that?).

Bring on New York...NOW!!!

posted by Darren | 9:41 PM
---


Tuesday, October 15, 2002 Does Six Feet Under ever fail to delight and impress?




No.

Only 3 days to go at work, but there gonna be intense. Stoopid work. Then its off to New York for five days of shopping and relaxation.



This is Rob on his last trip.

posted by Darren | 8:28 PM
---


Monday, October 14, 2002


Pooh!

No, Rob, not the smell of the man in front of Martin at the a-ha concert who could have ruined our night if he'd smelled very much worse than he already did(how does someone buy a £25 concert ticket but fail to be able to purchase soap?), but Winnie the Pooh, who's birthday it is today(if you believe some quarters. He actually has 2 birthdays, but I won't bore you with the details, I just wanted to share it with you). He's very cute isn't he? Especially in his Disney incarnation. Though, who could resist Tigger?!?! Certainly not this guy...




I was actually going to write about the Manic Street Preachers tonight, so I don't know what came over me to be honest. Their new single("There by the Grace of God") is out today and is taken from their forthcoming Greatest Hits, a promo copy of which I've been listening to this week. Have they sold out? Maybe, but I don't really care, they are still making music I want to listen to. And I'm going to listen to the new single but I'm not going to buy it...I don't think. Was tempted by CD3, the DVD CD Single, which also has a remix by Saint Etienne on it, but worries about it being crap held me back from parting with my £3.99. I've been stung like that once too many times. The track ain't all that hot though, so maybe S.E. have spiced it up a bit. I'll have to search the net for a flavor of the remix. Or a laff.


posted by Darren | 8:08 PM
---


Sunday, October 13, 2002


Fortreffelig!

Indeed they were. One of the best gigs I've ever been to. Dave might say I don't get out much, but I know Martin agrees. Having been a fan for 17 years from their earliest beginnings searching for a contract in London, to see them on stage, in a venue they themselves admit they thought they would never play again, and to see them perform the way they did, with such an appreciative audience, was a real joy. Morten looking sexier than ever also helped.

Welcome back to London, boys, and thanks for a great night out.
posted by Darren | 7:12 PM
---


Saturday, October 12, 2002


Went out twice this week. Bloody hell, at my age thats a lot of going out for one week.

Richard's 10 year awards drink at work saw him get completely paralitic(no change there then) and his boyfriend, Chris, carrying him home at around 9pm. Lightweight.

Thursday then saw us back in the same pub in Soho to celebrate Martin's **th birthday. This time I couldn't match the pace(two nights in a row and all that) and headed home with Dave and Lucio at about 9pm, though in a much more sober state than Richard the night before and than what was to happen to Martin later on. He got home around 12.15 and woke at 5am, fully clothed on top of his bed with every light in the house on. At his age.

Much needed night in on Friday, during which we vegetated in front of the TV and PC's. Hopefully we are fully charged for tonight, when Dave & I are taking Martin to Wembley to see a-ha. We may need a nap. (NB: Thanks to Dave for his very tongue-in-cheek resumé of the aforementioned Norwegian trio on his site today. I still think they are one of the greatest pop bands ever).

I think I need a holiday and Tyler's stories of his week in California have only increased my feelings on this subject. I tell you what, lets go to New York next Saturday for 6 days of retail therapy. OK say Dave & Rob.

posted by Darren | 3:40 PM
---


Tuesday, October 08, 2002


Work was crap. Whats all this going in at 9am and having to actually do something I don't want to do for 8.5 hours? Its definitely not "me". Maybe a good nights sleep tonight will help.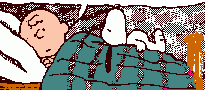 Last night, seemingly like every Monday night for the last few weeks, I lie awake until after midnight even though I hit the sack shortly after 11. Could it be the "Six Feet Under" influence? Can't say that I was thinking about this brilliant programme when I went to bed. I only started wondering if it was this that was keeping me awake when I realised that I was still awake. Still with me?




Still, now that I mention it...here in the UK, we are just started on Series 2 and David and Keith have just slept together after Keith shot a deranged man in the street and came looking for solace in David's bed. Hurrah! Then Keith left sometime in the night(Booo...!!!) to get back home to Eddie (Hisss...!) before he suspected anything (You can always count on men to never let you down, can't you?). Keith then phones David to say what they did last night was wrong (No.......!!!) and says they shouldn't see each other again ('sob'...thats as in "tears" and not as in "son of a bitch!"). Well, this ain't gonna last is it? David has already touched Keith's heart again with his comments about Keith's niece, whereas Eddie thinks the kid is trouble. Its sooo obvious whats gonna happen, but COME ON!!! GET IT ON!!! Sorry. Do I seem needy?

So that this blog appears balanced, I can let you know about this, but say that I obviously DON'T subscribe. Bastards.





Then Disney go and cash in on the success of the show in the UK by advertising their new Dennis Quaid movie, "The Rookie", with an addition to the poster that we didn't see in Florida earlier this summer - "Starring Rachel Griffiths from Six Feet Under". Well, I've heard the film's not too hot, but if it helps get her more work, go for it Uncle Walt!

Bastards though, eh?

posted by Darren | 7:53 PM
---


Sunday, October 06, 2002


Cinema

One Hour Photo was OK. Dave was quite disappointed and was barely awake by the end. Robin Williams was good, I liked Connie Nielsen(though she spoiled 'Gladiator' for Dave, "Why was there a woman in in Gladiator? there was no need, it was a 'man's film' through and through".)'s performance and Michael Vartan has great legs, though he was a bit of a scruff-bag.

More cinema this week I think: 'My Little Eye' and next weekend, 'Red Dragon'. Trying to fit that into a week where we also have a 10 year Anniversary at work(those who do 10 years get a Gold Disc - queue jokes about getting less for murder etc...I got mine in 1998 - I'm very loyal, obviously) for Richard, who's very embarrassed by it all, he's very shy in front of strangers or anyone in authority you know(should see him down the sauna though, "EVERYONE ON TOP!"). This night out is then followed the following evening by Martin's birthday drinks down in Soho. Then we go to see 'a-ha' at Wembley Arena on Saturday. This is Martin's birthday gift from me & Dave, but I still feel I should get him something else. (NB. he DOES want to go see 'a-ha', before you make any wise-cracks. Album of the year so far, I'm afraid, guys).

PS. Central Station(local dump of a gay bar) nearly completely redeemed itself last night. It wasn't all that bad. Pam Ann cancelled, but some old broad called Paula Pure, jetted in from Belfast and did a good job.
posted by Darren | 7:10 PM
---


Saturday, October 05, 2002


Dave Returns from Up North Safe & Sound
...and we go see Lucio, for dinner at Khan's Curry House, to catch up with him and tell him tales of Dave's trip to his parents in Northumberland and of his diversion on the way home to Blackpool, to investigate our desire to test the waters in owning a holiday and/or retirement home.

He saw some dumps...and then he went to Blackpool. Sorry, that was rude of me. His parents are fine and Barry the dog(formerly Dave's and now in retirement near the North Sea & beaches, with Dave's mam and dad) is enjoying life and getting fat in his old age. Blackpool brought mixed results with mostly dumps, but one or two things to think about. Dave didn't miss the opportunity to hit the Pleasure Beach for some serious ride time on some of the best coasters in the world.

Khan's is quickly taking the place of the Bengal Curry House, our previous permanent residence on our curry house list. If only Bengal hadn't been full last Saturday night, we would never have discovered that beyond the bright, airy minimilist café type look of Khan's was a much more diverse menu...and bigger portions! It was a lovely meal, again.

Today, Dave and I have been trying to get our heads around organising our e:bay accounts. Our first big influx of Ended Auctions means our first big "outflux" of items needing packaging and posting off to far-flung places around the globe. Well, not so far-flung for me, I've got to send something to Stenhousemuir in Scotland(dead glam), but Dave has shipped to the USA, Europe and one to Japan. Its pin money for the trip to New York..........2 weeks today.

Packages safely off, should we go to see one of the many films awaiting our attention, or should we just bimble about until this evening, when we may...and I can't believe I am saying this after last week...go to the local dump of a gay bar with Lucio. I may invite Rob, but after what I told him about last Saturday in there, his previous antipathy towards the place has surely turned to disdain.

We'll see, but I've got the show times for the following anyway:
Red Dragon, One Hour Photo, My Little Eye, Sweet Sixteen.

posted by Darren | 2:52 PM
---


Thursday, October 03, 2002


End of the World?

Nah, not really, though my legs and feet were paying for it today after Wednesdays Tube Strike. 30 minute walk at 6.15am was just avoided by running for a bus. Nearly caught the earlier train too, was actually at the station, but I think the general working public had got the hang of this lark, following last weeks strike and had turned up early in their...tens...or, possibly hundreds. Couldn't squeeze onto the 6.37, so waited on chilly platform with latest pulp novel, until the 6.59 arrived. 1 hour walk at the other end through slight drizzle but warm temperatures. By the time I got to work in Soho I felt like I'd crossed a desert. I had THAT kind of look on my face too. (I'd had 2 late nights in succession you see. Not entirely planned and no socialising involved at all. Its just that Dave was away oop north and I wanted to tire myself out as much as possible before getting into the lonely bed. Tiring oneself out at home on one's own can only bring forth a limited number of permutations. The one that probably immediately comes to mind, I did on Monday night, so better save myself now until Dave comes back on Friday. Well, you know, at my age...). So work was even more of a drag on Wednesday and today I was hoping to continue with the lethargy thru Thursday, but no hope of that with critical issue after critical issue and suppliers who haven't got a clue. I'm now officially pissed off with work again and shattered.

I'm going to bed.



posted by Darren | 8:49 PM
---


Tuesday, October 01, 2002 Careless
Shit! I've left the new Suede CD at work. Serves me right, going on about it like I have. Richard distracted me as I was preparing to leave the office. I even went to HMV on the way to the Tube to buy some more batteries(the ones in my player were dead this morning - the spares I had in my bag....were also dead - mistakenly left in my bag after changing them last time round - doh! and double doh!!). Sat down on Tube, put the new batteries in and pressed play.......air.nothing.silence.'shit!'

Still, its not the end of the world. No, that comes tomorrow morning when I have to get up at 6am to get to work for 9am, due to the second Tube Strike in a week. Dave's still in Newcastle and so I have to walk the 30 minutes to the Railway Station, with another 50 minutes walk at the other end. I'd take a Holiday day but I'm very important to them you know. posted by Darren | 7:19 PM
---