Tuesday, December 31, 2002


I didn't get a new job today. Unfortunately, it was still as boring as hell and I was forced(neé HELD DOWN!) until after 4.30pm at the office before being allowed to leave to celebrate the New Year. Its criminal! ;-) But I chooses where I work, of course, and if I had any balls, I'd be out of there in a shot in 2003. Lets see what the New Year brings..........

What its going to bring first of all is drinks and nibbles round at Lucio's with my man(Dave) and Rob. Then on to the local gay bar for decrepit old(racist) drag queen, Phil Starr and seeing in the New Year with North East London's finest (sic) gay boyz. Dave, Rob and I are hoping to get Lucio very drunk so he forget's he's bought us the tickets and we just stay in!

On the other hand, it IS where Dave and I met, 2 years ago tonight, so its our anniversary as well! God Bless Us! Its been a rollercoaster 2 years in more ways than the literal, so thanks babe! Love You!

See the rest of you in 2003 and a very Happy New Year's Eve and 2003 to you all.
posted by Darren | 6:25 PM
---


Monday, December 30, 2002 God! Someone please find me a new job!

I'm so f***ing bored ! ! ! ! ! ! ! ! ! ! ! ! ! ! ! ! ! ! posted by Darren | 7:55 PM
---


Saturday, December 28, 2002


Herb Ritts : 1952 - 2002

As one of the most successful image makers of his time, Ritts has imprinted those universal ideas—of beauty, of sexuality, of humanity—with his own clean and classic style. He's captured a portfolio of images that both defines a generation, whether it's a Gap ad portrait or a Madonna video, and transcends it.

When the excursions of the gay political battles have subsided, it may come to be seen that the work of Ritts and other gay photographers of these times has played no small part in opening the public's eye, as well as its heart, to a world where beauty has no gender and sexuality, no agenda.



posted by Darren | 11:43 AM
---


Thursday, December 26, 2002


Happy Holidays!

As I said below, much food(much too much!) and a drop or two of the strong stuff were consumed on Christmas Day at Lucio's house. Just the 4 of us this year, Lucio, Dave, myself and Lucio's lodger, Hugh(a real raconteur!, "Really?!"). Other friends were with other friends or skiiing in Switzerland or with family in California, so it was left to the 4 of us to make merry in London's E17.

Far too many nibbles, followed by copious amounts of beer and wine were followed by dosing on the sofa while Lucio continued to prepare the main meal. The bird was consumed late in the afternoon to be followed by more dozing and the Festive delights of BBC1's programming(much more entertaining than the cheap tat on ITV!).

We left there at some time approaching midnight, thank you again Lucio for a lovely day!





Boxing Day

This years Christmas Day missing-in-action included Nicola and her husband & kids, so I, Dave & Lucio hopped in the car late afternoon on the 26th for the short(?!?! 1hour!!!) trip round the North Circular to their new house in NW London. More alcohol and food(much too much!) was had by all(tho not too much beer for me as I was driving). So nice to see them again, only seen Nicola once since she dropped her second sprog last January! Both Zack and Adam were well behaved, which is always nice. Such nice kids.





Resolutions

So now it begins.

I WILL :

- go to the gym
- give up alcohol
- go swimming
- get the bike out from under the tarpaulin in the garden (and use it!)
- get more sleep and be more pro-active and positive at work
- etc etc etc

or not.

We shall see. Its not 2003 yet, so we've still got a few days to finish off the remnants of Christmas dinner, the left-overs from the preparation that we either forgot to use or decided at the last minute would not be part of the day's meal and the box of chocolates and chocolate bisuits that still remain(bought for visitors knowing full-well we don't really get any!). And Rob is round for 'Christmas Dinner' on Saturday 28th! A few more days to work on making our bellies even bigger! That way, its more of a challenge in the New Year, isn't it?
posted by Darren | 10:18 PM
---


Monday, December 23, 2002 Respite

Following 2 mad weeks, a full weekend.

Lucio returned from 3 weeks in Australia visiting his folks. Tom arrived from Zurich for a pre-Christmas visit.

Drinks, lunch, dinner, drinks, chat, a little shopping and more drinks & chat. Lovely. With friends we love.

2 days of work to be followed by 2 days of more of the above at Lucio's house. No friends-with-kids this year which means even more opportunity to get more than a little tipsy. Lucio will put on another one of his famous spreads(ie.TOO MUCH!) and we'll all get drunk and exchange gifts and fall asleep in front of the TV.

Bliss. Its what Pretend Families were invented for.

posted by Darren | 10:27 PM
---


Saturday, December 21, 2002


Another 'WAWTW!'

Work was supposed to go into overdrive for Christmas, but as has happened before, the main problems occurred mid-December and by the time we hit the week before Christmas, everything falls into place and it all becomes calm. Like an oasis within the maelstroem of the whole month of December(It WILL kick off again on the 27th, believe me - lets hope it remains calm until then).

Tuesday, though, was this week's highlight(if thats the word I'm looking for and I'm not sure that it is) as this was the day of this year's office Christmas Party. A club was hired near Piccadilly Circus. Very central, with great public transport opportunities for escaping quickly(not like some previous years which were considered to be 'central London', but hey!, listen, Holborn is NOT the West End!). And escape quickly I did, at midnight. Rob had gotten a get out of jail card by going to the 'Star Trek - nemesis' premiere instead, but he was thinking of not going to the party anyway. Its not, specifically, that I don't like a party, its just that I think this particular party always follows the same pattern, along the lines of that currently outlined by Chig.

This years incidents included:

- Someone being thrown out for doing a line of coke on one of the glass tables in what he thought was an isolated and hidden part of the club.
- One of the younger members of my team doing his bit for inter-departmental relations by acting like a 14 year old boy at a school disco and snogging some young skinny thing(female) on the dance-floor, much to the delight of another member of my team, who generally acts like a 14 year old school boy all the time even though he's in his mid-twenties.
- A straight colleague who has previously talked to me about homosexuality on a number of occassions(usually raised by him, not me), arriving at the party very high and very drunk and talking to me about how he is sick of being thought of as gay, telling me I was "fucking ugly", telling me "get your hands off me"(though I was not touching him), telling me how he is in love with one of his female colleagues(who kept running away from him all night), but wanted to shag a girl who worked for me(who is happily married and told him so early on - which didn't help his mood) and then became aggressive with one of the lads from my team. At this point I asked 1 of 'drunk/high guy's' colleagues to sort him out. He promptly fell asleep for an hour, before continuing where he left off.
- A magician who lost a girl's engagement ring on the floor of the bar as it had slipped off the hook in his back pocket. He panicked and was searching the floor and close to tears. Luckily one of our colleagues had seen it out of the corner of his eye, picked it up, kept hold of it without letting on and then passed it round the table while the magician frantically searched the ground(visions of lawsuits floating round his head) so that the girl could out it back on her finger and pronounce - "Oh my god! The ring is back on my finger, thats amazing, how did you do it?!". Much relieved magician, who then proceeded to make amends by extinguishing 2 lit cigarettes into someones (hideous) rolled-up sweater and throwing a pack of playing cards up at the ceiling, leaving the one someone had just written on, stuck to the ceilin(á la David Blaine).
- Someone from my team showing his feminine side by flirting outrageously with one of my more impressionable gay friends.
- Aforementioned flirter snogging married(female) colleague - not for the first time.

...and me escaping at midnight, back to the safety of my home and my boyfriend, who, luck would have it, had his office Christmas Party on the same day, starting at 11.30am(!) and getting home at 10pm. Much more civilised. Possibly why its called the 'Civil Service'.

Posting Delays

The previous post, dated Thursday December 19th, was actually written on Sunday 15th. blogger.com publishing nightmares ensued for 4 days! I must get up early and post, when all you Americans are in bed. posted by Darren | 10:01 AM
---


Thursday, December 19, 2002 What a Week That Was ! ! !

Work has been so intense. Third party suppliers being as crap as ever in the run-up to Christmas, even though they make their usual promises. The I.T. Director is now involved and bringing out the big guns seems to have done the trick. Fingers crossed for this week - the big push to Christmas.

In between working, Dave and I finally made good on our promise to Martin of going to see 'Die Another Day' with him at the Empire, Leicester Square. I was a little underwhelmed, but it IS definitely a GOOD Bond Movie. Last week was also about looking forward to Dave's birthday on Thursday 12th. A couple of drinks with Martin in 'The Site' (formerly 'Brief Encounter') near Trafalgar Square, was followed by a romantic meal for 2 (me & Dave of course!) at 'Joe Allens' in Covent Garden.

Nice.

I think he liked the gift of 'The Getaway' on PS2 too.

Then it was off to the parents for the weekend. Dave to Northumberland and me to Lancashire. A good way of saying Happy Christmas and delivering presents without having to go through the whole tense-nervous-headache of actually being with the whole family on Christmas Day itself. I'd rather relax with friends and, yes, I suppose, my 'pretend family' - though theres nothing 'pretend' about it in my eyes. The main reason they got me to go this time was that it was actually my grandmother's 90th birthday. We used to be very close(aren't all gay boys close to their grans? Well, no, Dave and Richard aren't!), they don't come round very often(90th's) and my parents were throwing her a party, so I thought I'd better show up and put up with the 'bad-things' that visiting the family throws up. It actually went quite well and I might publish a photo or 2 in the next few days.

Bed beckons, once I've unpacked! Then its back to the lovely hole I call 'work'. zzzzzzzzzzzzzzzzzzzz.................
posted by Darren | 7:26 AM
---


Wednesday, December 11, 2002 Have you been Naughty or Nice ? posted by Darren | 9:38 PM
---


Sunday, December 08, 2002


Christmas Retail Therapy

And a very long Saturday, did we have. We decided to take part in the full Christmas Shopping experience, leaving the house at 8am on Saturday and heading round the M25 to Bluewater. We were there for 8.45am, our baskets were full in HMV by 9.45am and we didn't stop there. We thought we would be on our way home by 2pm at the latest, but after a great(not so low-carb) lunch at Ed's Diner we continued headlong into the afternoon. We were all set to leave at 3pm when we thought we would just take a look in an Opticians to get some ideas for a new par of spectacles for me. 30 minutes later I had tentatively chosen a new pair, was waiting for my eye exam and we were looking at an hour's wait for my new spectatcles to be ready. We spent the time looking for Granny Gifts at Marks & Spencer. We were on our way home at 5pm, fully laden with Christmas goodies for our kith and hin. A great day out with my boyfriend.

The trick is to get there early and beat the crowds. Marvellous.
posted by Darren | 6:53 PM
---


Thursday, December 05, 2002 How would you cope if you were suddenly confronted by your very own Guardian Angel, who can read your mind and is there to help you sort out your life? This is the question Baggy and Sam have to answer one summers' day, after yet another night on the town…




Unfortunately, nobody in the UK was really that interested in how they, or the characters in this film('Offending Angels' - heard of it? Me neither) would cope, as it only grossed £89 at the UK Box Office in 2002. Thats approximately $120. Gross. This film is 312 in a list of UK box office grosses for 2002. Thats 312 out of 312 movies released in the UK this year. Another British movie with little or no publicity, that goes the way of so many others(down the pan) and adds to the age old story of the ailing British Film Industry(main victim this year was Film Four, that stalwart of independent and ground breaking British Cinema, forced to shut up shop after the disasters of 'Charlotte Gray', 'Once Upon a Time in the Midlands' and 'Death to Smoochy').

At the other end of the spectrum we have 'British' movies, 'About a Boy' and 'Gosford Park', which between them grossed over £29 million, most of that dosh heading back over the pond to the big US studios. Only 'Bend it Like Beckham' can claim to be nearly completely British and that made a healthy showing at number 13 with a gross of over £11.5 million. Other than that though it was, yet again, a US dominated Top Ten. They practically invented it after all.

Here's the current Top Ten UK Box Office Grossers for 2002 so far(thanks to Empire Magazine):

1. Monsters Inc - £37.7m
2. Attack of the Clones - £37.4m
3. Spider-Man - £28.7m
4. Ocean's 11 - £26.3m
5. Austin Powers in Goldmember - £23.5m
6. Men in Black II - £22.2m
7. Scooby-Doo - £21.5m
8. Minority Report - £20.6m
9. About a Boy - £16.9m
10. Signs - £15.8m

Why have I just given publicity to some of that tosh above when classics such as Gosford Park, Insomnia, From Hell, Mulholland Drive, Donnie Darko (all candidates for my favourite movie of the year), Sur Mes Lévres(Dave's particular favourite film of the year and one of mine), Y Tu Mama También, Talk to Her, In the Bedroom, The Closet, Dogtown and Z Boys and Roberto Succo all languish further down the list? The UK population and the Western World in general aren't looking to think when they go to the cinema. They are looking to escape and if they have been poorly educated, then they are easily pleased. The Top Ten isn't actually THAT bad, only Austin Powers, Scooby-Doo and MIB2 could really be consigned to my previous description.

All in all not too bad a year, but I find myself being more easily disappointed than pleased these days. 'Signs' was a huge let-down, as was 'Panic Room', but there were some lovely surprises too: 'Gosford Park' and 'The Bourne Identity' amongst them.

I can't wait for 'The Two Towers', 'Gangs of New York', 'Far from Heaven' and 'Catch Me if You Can'.

Bring on Christmas and 2003!


posted by Darren | 10:11 PM
---


Wednesday, December 04, 2002


Barry

We had a lovely weekend in Zurich, but the 'back down to Earth' feeling of going back to work and normality in London was made that more difficult to cope with, with the sad news we received on Monday evening from Dave's parents. If you read Dave's blog, and most of those who have made contact with me on this blog have come to me via 'They didn't teach me this at school', you will know about the death of 'Barry', Dave's dog of 10+ years, who retired to the Northumberland coast last year. He had a peaceful, fun-filled final year, being fussed over by Dave's mum and dad. See 'They didn't teach me...' for a beautiful eulogy and thanks to those who have already sent their condolences.
posted by Darren | 7:52 PM
---


Monday, December 02, 2002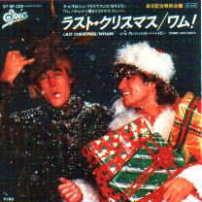 Happy Holidays!

Oh god, we had a rule at work that said no Christmas music until December 1st and now they've gone MAD! We had to endure poor instrumental versions of such classics (sic) as "Last Christmas" and "Mistletoe & Wine". Bring on Phil Spector! Now where is that CD? I've GOT TO take it to work tomorrow for the sake of my sanity.

Happy Holidays!

Talking of Holidays, we had a great time visiting Tom in Zurich last weekend. No snow and the Christmas Market at the Hauptbahnhof was full of tat, of the kind you can find anywhere in the world(scented candles etc), but such a wonderful setting. See Dave's blog for some pictures and more on our weekend. Thanks Tommy!

posted by Darren | 8:39 PM
---


World AIDS Day

My second 'major' boyfriend(3.5 years) and I split up 10 years ago. We were young, but I didn't think reckless. My first boyfriend had been about 7 years older than me and introduced me to the ways of the world, but on embarking on my second relationship I was the 'older man', even though I was only 21 and he was 17. I still had a lot of learning to do and the relationship was very rocky. It lasted over 3 years though and he still meant a lot to me after the relationship finally ended. We keep in touch sporadically, speaking, on average, twice a year. This meant that I was quite aware of the man he was becoming and to say it was worrying was an understatement. Drugs and unsafe sex seemed to be a staple of his life and this was the 90's, meaning he should have known better. The phone call from him that I always thought would come, did so a couple of years ago. HIV+ but very upbeat. He knew all the ins and outs, all the drug regimes he should and would be following, what he needed to do to lead a healthier life than he had been doing so up until that point. All in all, centre of attention with all his friends, where he always loved to be. 2 years on and he's off again, leaving one boyfriend for a new life and scheme that lasts a few months before upping sticks again for something else. A text message last week told me had left town but no more. A text and phone call from me proved fruitless, ignorance and voicemail greeted me. I still care and I know I'll be there for him(to some degree) when he needs me, so I'll just wait for that phone call again and get on with my life, which I learnt to do a long time ago now. posted by Darren | 8:35 PM
---