Tuesday, December 30, 2003 Animal trainer Roy Horn has returned to his home in Las Vegas to continue recovering from the tiger mauling that ended the Siegfried & Roy magic show in which he starred, his manager said on Monday. Horn almost died after a male white tiger grabbed him by the neck and dragged him offstage during a performance at the Mirage resort on October 3. Horn, 59, who was moved to the University of California, Los Angeles, hospital two months ago, has now returned to Las Vegas, manager Bernie Yuman said in a statement. Horn is able to write notes, a spokesman said, but no other details of the extent of his recovery were available.

In my best Mrs Overrall, Midlands accent:

"Oh, I AM pleased!" posted by Darren | 8:48 PM
---


Monday, December 29, 2003 Genital piercing may increase the risk of HIV transmission through oral sex, according to a recent study from Australia. "Seventy-five homosexual men with recently acquired HIV were interviewed about their risk behavior," according to J. Richters, co-author of the study at the University of New South Wales. "Fifty-nine reported unprotected anal intercourse, and one shared injecting equipment, with a partner not known to be HIV-negative. Of the remaining 15, 11 reported protected anal intercourse. In five of the 15 we judged oral sex to be the most likely source of infection, including three men who had a genital piercing. The possible transmission risk from genital piercing should be investigated."

Indeed, it should.

posted by Darren | 8:25 PM
---


Wednesday, December 24, 2003 Home from work at 5.30. Dave picked me up from the Tube. Head cold still there. But the house is cosy following gas boiler repair today. Cross fingers it gets us through the weekend.

Merry Christmas to one and all. posted by Darren | 7:08 PM
---


Monday, December 22, 2003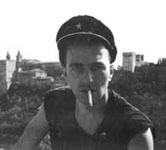 Joe Strummer died a year ago today, aged just 50. The Clash passed me by. I claim I was too young and lived 'in the sticks'. I think it was probably more to do with being a nerdy, geeky, A-student who preferred his parents' 50's and 60's 45rpm/78rpm discs. That and not having much pocket money. Dave was a huge fan though. At the time. posted by Darren | 4:33 PM
---


Sunday, December 21, 2003 The Return of the King was great. Maybe the best of the three. Even I, though, was squirming slightly at how homo-erotic it got towards the end (though I'll probably want more of it, when viewing next years extended DVD, in the comfort of my own home). Sam was crying (again and on multiple occassions) over, in turn, the thought that Frodo was abandoning him, dead, dead again and leaving him. And all this with a girl, later wife, supposedly in his thoughts. Merry and Pippin continued the love-fest, vowing to never leave each other and to take care of one another. I can see them now, 100 years hence, tending their garden in front of their Teletubbie house with its round door and windows. Gandalf(Serena McKellen) was making eyes at everyone (no change there). It was left to Mr Testosterone, Viggo Mortensen, as the eponymous King, Aragorn, to make up for all of this. He did it with gusto and style. He can charge at me, sword brandished and hair waving in the breeze anytime he bloomin' well likes!

(Ed. but you're in love with that fiendish imp, Frodo! Author: yeah, yeah, but one needs a good seeing to once in a while).

Tom popped round today, to say Merry Christmas, as he is going to his family in the North East on Christmas Eve. A couple of bottles of White Wine and the odd wisp of his Marlboro's, may have finally seen me succumb to cold symptoms that have been doing the rounds over the last few months. Deep Joyeux Noel. posted by Darren | 10:30 PM
---


Saturday, December 20, 2003 It is time.

The board is set, the pieces are moving.

The Journey Ends.


posted by Darren | 3:13 PM
---


Friday, December 19, 2003 Christmas Office Party on Wednesday night. Was supposed to be home on the last Tube. But oh no. Missed it and had to scrat round for a cab, which cost me £30, getting to bed round 3am. At my age, that isn't enough sleep to get me through the next day. Hence, no fit state on Thursday to come anywhere near Blogger. And it wasn't the greatest night ever. They never are, which is why it wasn't gonna be a late one. Its mostly a blur. posted by Darren | 8:12 PM
---


Tuesday, December 16, 2003 He's made some shit, but Hill Street Blues was essential viewing for this teenager in the early 80's. NYPD Blue, the HSB of the 90's, and LA Law, the LA Law of the late 80's and early 90's, never really made their mark on me, though, but it cannot be over-stated that this guy has the midas touch in TV-Land. Steven Bochco is 60 years old today. posted by Darren | 9:42 PM
---


Monday, December 15, 2003 Blackpool was great.
Skelmersdale was good.




Me. Today. posted by Darren | 8:56 PM
---


Wednesday, December 10, 2003 Off to Blackpool for Dave's birthday. We know how to live.

Here's summat nice to look at over the weekend...inspired by Dave's mention today:




Dylan. posted by Darren | 9:49 PM
---


Tuesday, December 09, 2003 I have the evidence that I sought long and hard(Ed. You only looked on GaffaWeb!!!); Kate Bush is in the studio and, sort of, has been since the end of 1999. She is very elusive, that Kate. It could be with us by Easter though. Rob may or may not be pleased to know that Mick Karn is involved. posted by Darren | 9:56 PM
---


Monday, December 08, 2003 World Champions. posted by Darren | 11:14 PM
---
Happy Birthday to Ellen Burstyn, who was robbed of the Best Actress Oscar, for Requiem for a Dream (a date-movie for me and Dave in Marseilles), in 2001 by Julia Roberts.




She can console herself with her 1974 win for Alice Doesn't Live Here Anymore. She can hardly have been too upset by missing out to co-star Cloris Leachman, when she was first nominated in 1971, for The Last Picture Show, but time has proven that though both actresses have made plenty of turkeys, Burstyn has a few jewels in her crown, to Leachman's one. The standout films, other than those already mentioned are The Exorcist, Same Time, Next Year and Resurrection.

Maybe 1973's loss for The Exorcist was one of the main reasons she won a year later for Alice, but she has proven every few years what a great actress she is.

=================================

And a real sad note for Blogland. Troubled Diva is no more. He is a deceased blog. He is an ex-blogger. Farewell then, Mike. posted by Darren | 10:13 PM
---


Thursday, December 04, 2003


I loved thirtysomething, and though Patricia Wettig's character(Nancy) could sometimes annoy me(though not as much as Nancy's husband), she was really great in it, as the Emmy voters agreed three times. She's 52 today, gawd bless 'er. Someone give her her own series. posted by Darren | 11:22 PM
---


Wednesday, December 03, 2003 "The most expensive bottle of wine is way out of most people's reach; the most expensive bottle of balsamic vinegar costs more than a thousand dollars. But the most expensive chocolate bar costs only $9."
- CLAY GORDON, owner of www.chocophile.com.

A bit 'foreign' and/or American maybe, but for all you chocaholics out there, check it out.




posted by Darren | 8:21 PM
---


Tuesday, December 02, 2003


Johnny Depp played Captain Jack Sparrow




like he was the long lost grandson of

Albert Steptoe.




Marvellous. posted by Darren | 10:17 PM
---


Monday, December 01, 2003 Bought Pirates of the Caribbean DVD today, but what with one thing and another, we didn't get round to watching it. And I was so excited too. I'll just have to wait. Little Britain at 10 on BBC2 for all you non-cable viewers. Us? We'll just watch it again, then sit back and watch it take Big Britain by storm. Mark my words.

World AIDS Day


posted by Darren | 9:41 PM
---