Wednesday, March 31, 2004 All you do to me is Talk Talk. posted by Darren | 7:52 PM
---


Tuesday, March 30, 2004 Dave is very excited that I can now have holiday in December.

So am I. posted by Darren | 9:52 PM
---


Thursday, March 25, 2004 "Your government failed you. Those entrusted with protecting you failed you. And I failed you."
- RICHARD A. CLARKE - former counterterrorism chief.
posted by Darren | 8:56 PM
---
Sarah Jessica Parker is 72 years old today:


posted by Darren | 8:54 PM
---


I remember one of my teenage mates having three early Japan albums on vinyl, in the early eighties and us listening to them, on his dad's Bang & Olufsen system.




His dad would only let Ian have the stylus when he(his dad) was in the house, and dad had to fit and remove it.




His dad died when a car skidded off an icey, country road one winter, and ran into him while he was walking the dogs.

Even before then, he was a cold, cold man.

Anyway, these Japan albums have been remastered and are released next Monday, and I appear to have mislaid my Exorcising Ghosts:




posted by Darren | 7:57 PM
---


Wednesday, March 24, 2004 11.5 working days until I leave. posted by Darren | 7:48 PM
---


Tuesday, March 23, 2004 And he looks like Spencer Tracy now. posted by Darren | 7:49 PM
---


Monday, March 22, 2004 We've both given up smoking
Cos it's fatal
So, who's matches are those? posted by Darren | 8:47 PM
---


Friday, March 19, 2004 Sometimes
You're better off dead
There's a gin in your hand
And its pointed at your mouth posted by Darren | 9:53 PM
---


Thursday, March 18, 2004 Sometimes, the image I want to post, just cannot be found on the world wide web thingy. It's very frustrating, especially as the clock counts down to 9pm and 24 followed by Cold Case.

Hey Ho. posted by Darren | 8:33 PM
---


Wednesday, March 17, 2004


How'ar ye? posted by Darren | 9:00 PM
---


Tuesday, March 16, 2004 Hans Blix said he did not share the Bush administration's view that the war in Iraq had made the world a safer place.

Meanwhile, I saw Fergie in our building today.

No, not him...




Nor him...




Nor him...




Her!...




She looked great. posted by Darren | 8:37 PM
---


Monday, March 15, 2004 Great British Comedy of the moment:

Catherine Tate
Harry Hill's TV Burp
Little Britain

Seek it out.
posted by Darren | 9:04 PM
---


Sunday, March 14, 2004 My ex and I once got talking to a middle-aged married couple, while in line at Disneyland(Los Angeles). They were "being American", you know, neighbourly, fascinated by our accents, interested to know what we had been doing on our trip. When we mentioned we had been staying with his parents for part of the trip, in Oceanside, near San Diego , they asked us if we had seen The Temple. My ex didn't know what they were talking about but I had a pretty good idea. And I was right. The Mormon Temple in San Diego. You can't miss it. Completed in 1997, it sits next to the I-5 north out of San Diego. At night-time, it looks like one of those Christmas displays, with lights inside them. Anyhow, they then moved on from their earlier conversation about their two children and their thoughts on the places we had visited, to ask us if we had ever been inside The Temple and whether we had thought of joining "the church".

Luckily, there were two parties of four in front of us and only two remaining seats on the ride, so we were hauled out of the line, making good our escape, with a "nice to meet you" and relief.

Controversy in Salt Lake City this week, where a photographic exhibit at the Community College was moved to a less-prominent position. The series of sexually suggestive photographs of two male Mormon missionaries is causing a furor. Police were called to quell a shouting match that erupted on Tuesday, after an upset student began to take down the black-and-white photographs by Don Farmer, a graduate of Westminster College.

The photographs, part of a student-sponsored exhibition by gay, lesbian and transgendered artists, depict two young men in white shirts and dark pants, one of them wearing a missionary name tag. In one shot, one of the youths unbuttons the other's shirt; in another, one undoes the other's belt as a book of Scripture lies open nearby.

Farmer, who is gay, told The Salt Lake Tribune that he was raised a member of The Church of Jesus Christ of Latter-day Saints and had difficulty while growing up reconciling the two worlds. Farmer said the men in the photographs are returned missionaries who became a couple. "It's real. It's life. It's something that maybe you haven't experienced, but someone else has," Farmer told the newspaper.

And who can blame him, whether real-life or not. If they are gonna walk around looking so god-damned hot, what do they expect.




Must cost a fortune in washing powder, too, to keep those shirts sooooooo white.

A link here to an earlier post... Patrick Wilson played a closeted gay mormon in Angels in America. And if memory serves me right was DAMNED HOT in that.
posted by Darren | 8:38 PM
---


Saturday, March 13, 2004 Mad as a box of frogs.

I can't believe this (p)review of last night's HARDtalk programme doesn't include references to why York came across as either:

High on something,
drunk, or
mentally ill.

I can't see anything on the web. Maybe it was just sheer excitement to be back on TV and/or because she was being interviewed by the BBC.

posted by Darren | 7:00 PM
---


Thursday, March 11, 2004


All my certainties have long since
faded with the acrid smoke of tragedy,
like the illusions they always were.
There is too little justice, far too much hate,
and a thousand more Warnings every day of the year.

posted by Darren | 8:31 PM
---


Wednesday, March 10, 2004 What is it about Phil Spencer of Channel 4's Relocation Relocation that I find very very sexy?

(Rhetorical question, surely? - Ed.)

Can't find a decent photo of him to post, though.

Work is 'levelling off'. Is that a good word to use? Who knows; after last week, I never expected to have another week like it for months, so to have them consecutively has nearly knocked me for six.

5 weeks, 2 days left. Then the real work starts(!). posted by Darren | 8:39 PM
---


Tuesday, March 09, 2004 Work is shit at the moment. I really cannot BELIEVE what is going on. I really cannot wait until I leave.

It could be worse... I was just reading about Spalding Gray at the weekend and it wasn't anything to do with his disappearance and now death. Sad. posted by Darren | 8:43 PM
---


Monday, March 08, 2004 As (UK) Mothers Day approaches, what better gift for the most important woman in every man's life than a sweater. posted by Darren | 9:46 PM
---


Sunday, March 07, 2004 Weird weekend, particularly today. Dave's teeth/gums have got the better of him and he seems confined to bed. I'm still recovering from my trip to Edinburgh and seem unable to rally to any cause.

Attempted some gardening, but the weather, though not extreme, sent me back to the house within a very short space of time, it's just miserable out there. Damp, drizzly, breezy..... just not in the mood for that.

A bit of housework, a bit of mp3-ing, a bit of TV sport - plenty to choose from today... F1 Australian Grand Prix, FA Cup football, Six Nations Rugby from Cardiff.

Still got yesterday's Guardian to get through...

Come on! Mush! Mush! posted by Darren | 2:05 PM
---


Saturday, March 06, 2004 At age 62, you should know better than to root through the lettuce in the salad bar at your Florida old age home. But that's what Spring Haven Retirement Community resident Lee Thoss did last Sunday afternoon, triggering a brawl that sent three residents (including Thoss's octogenarian mother!) to the hospital.

According to the Winter Haven Police Department report, Thoss went ballistic after William Hocker, 86, told him to stop "playing" with the lettuce... and then called the younger man a "child molester."

Thoss allegedly responded by punching Hocker in the face and biting the arm of a 78-year-old male resident who tried to break up the fight.

Also injured in the melee was Thoss's mom, Arlene. In defense of her son, Arlene told cops that he was simply "picky when it came to his choice of greens".

In the end, the pensioners each declined to press charges, though the younger Thoss has been evicted from the retirement home. posted by Darren | 6:31 PM
---
Eventually got back home at 11:30pm, Friday. My 17:00 flight from Edinburgh to Heathrow was bumped back to 20:15, due to technical difficulties... with my system crash, not with the airlines.

Dave and Edward collected me from the airport. My poor eyesight would have missed them, but for Edward catching my eye, and me thinking he was a sniffer dog (not that I had anything to hide, of course!). Sniffer dogs and armed police(machine guns) are unusual sights and always get my attention. I'm sure Edward would make a great sniffer dog. He makes a great guard dog already and loves getting his nose into every nook. Usually on the hunt for food, admittedly.

All in all, I managed to get out of the building for a walk along Princes Street and a view of the Castle, for a grand total of 40 minutes on Thursday. And no minutes on Friday. My hotel was situated in the same building, which was handy for the work I was doing, but didn't help in my attempts to have a break from it all.

I saw more of the city in my two cab rides, to and from the airport, and on the descent into land, as we came out of the clouds, banked to the left over the Firth of Forth and the city lay below us, over to our left, brilliant in the sunshine. It's been a few years since I was there for pleasure. Must go back very soon. A beautiful city.
posted by Darren | 6:00 PM
---


Wednesday, March 03, 2004 UNBELIEVABLE.

System crash in Edinburgh.

I'm going up there tomorrow morning. Definitely until Friday at some point and maybe beyond.

I am gonna be so happy when I leave that office on April 16th. posted by Darren | 9:58 PM
---


Tuesday, March 02, 2004 The last three nights I've been on tenterhooks, and not just because of the Oscars and the Ashley & Claire saga on Coronation Street.

:o)

A system crash at one of our sites and I've been on call to support it's rebuild. Luckily, staff at the site have been unwilling/unprepared/unable to stay onsite beyond 9pm, contributing to the extra-long time that the system has been down. We would normally work overnight, non-stop, but security procedures dictate that we need someone from the site to remain with us at all times. As well as the delay, though, this has lead to three good(or what passes for good in this household) nights sleep, only being on tenterhooks until 9pm, rather than throughout the night.

This is one of the main reasons I'm moving on. I'll have days when the hours are long, but I'll get the time back and it won't be unscheduled long hours. I'll know what I'm doing next week. I'll know that I need to be in Norwich from 10am-10pm on Monday, followed by similar hours in Kings Lynn the next day and Lincoln the day after that.

I will also know, though, that Thursday thru Sunday are mine.

Days off.

Long weekends.

More time with Edward. Less doggy-work for Dave to do after a long(sic.) day at work. More dinners on table for him on those days. :o)

I am excited. posted by Darren | 8:53 PM
---


Monday, March 01, 2004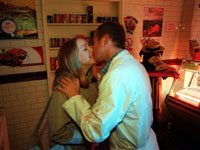 As Claire is leaving, Ashley catches her in time to tell her to stay and how he feels... posted by Darren | 8:43 PM
---
Oscars spoiler...........................

A clean sweep - 11 out of 11 for Lord of the Rings: Return of the King, including Best Picture and a richly deserved Best Director for Peter Jackson. I am pleased. Even I didn't predict that and am, therefore, probably not going to win the Sweepstake at the office. Early indications are that I have 12 points out of a possible 26. It's not looking good is it?

Gut instinct was not followed for key categories. I tried to be smart and go for the "foreign national tries to come to grips with English language and emotional situations" instead of going with (good performances allied with) "hot favourite and they're bound to get it because they've missed out twice each in the past" status (Renée and Sean, plus Tim Robbins).

Hey ho. It was for fun! and a small sum of cash. posted by Darren | 7:13 AM
---