Thursday, December 22, 2005


Step into Christmas
Let's join together
We can watch the snow fall forever and ever
Eat, drink and be merry
Come along with me
Step into Christmas
The admission's free posted by Darren | 9:37 PM
---


Wednesday, December 21, 2005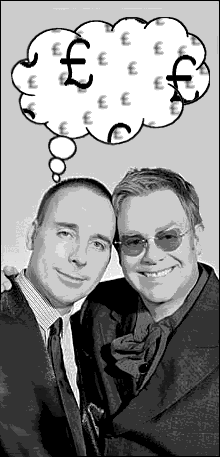 Well, Mr John and Mr Furnish are now Mr & Mr John-Furnish, or Furnish-John, or Dwight-Furnish, or whatever. And Mr Anthony Sher is now Mr Anthony Sher-Rogan. I'm not sure we're quite ready to be Mr & Mr Something-Hyphen-Something.

Though, if tax breaks come back in.....

Talking of broke-ing things...




Only 9 days until Brokeback Mountain opens on limited release in London. Someone more camp might say "Hankies at the ready, girls!"

Annie Proulx explains a little about the background to writing her short story masterpiece. posted by Darren | 10:06 PM
---


Monday, December 19, 2005


Surprise number one single for Nizlopi, who I have seen described on the internet thus:

"Nizlopi are one of the most exciting acoustic/hip hop acts to come out of the
British live music scene in a long time!"

But their chart-topping single is being described as folk-rock á la Billy Bragg. See/hear for yourself here.

Makes the chart interesting for a change. Well, as interesting as when the Arctic Monkeys came from out of nowhere a couple of months back to top the charts.

NB: Adrien Brody just doesn't cut it as the romantic lead in King Kong. Good actor, but the camera just had to pull back a little, or as the cameraman in Tootsie says when asked to pull back from Dustin Hoffman's dragged-up character:

"How do you feel about Cleveland?" posted by Darren | 9:35 PM
---


Sunday, December 18, 2005


And the rest of our Christmas cards should now have gone out(Dave does half(-ish) and promises me they've gone), so if you haven't got it by the middle of the week let us know. posted by Darren | 5:08 PM
---


Tuesday, December 06, 2005 I posted (nearly) all my Christmas cards from Ashford in Kent today. That will throw those who look at the post mark before opening the envelopes.

Here's hoping that an eastern European, illegal immigrant agency worker, employed by the post office down there, doesn't dump the lot in a ditch. posted by Darren | 8:05 PM
---


Monday, December 05, 2005 We'd better start shopping for hats. posted by Darren | 8:44 PM
---


Sunday, December 04, 2005 Dave forgot about the Antony and the Johnsons gig. Phew, just reminded him. He must be really looking forward to it.

Last night I needed only the fingers of one hand on which to count the number of good looking people(male or female) I saw at the a-ha concert. a-ha fans really are a plain-looking bunch*.

* - I'm trying in vain to come up with something to exclude myself from this group.

--------------------------------------------

I wrote all my Christmas cards out tonight. That's a weight off. posted by Darren | 10:16 PM
---


Saturday, December 03, 2005 How COOL am I?!

Dave is going to see Antony & the Johnsons on Monday, Mr and Mrs BW went to see The Stranglers last night, while tonight I'll be swaying from side to side, moving my arms irrythmically as a-ha enthrall us all at the NEC Arena.

And it's only a 3 hour drive. Woo-hoo! posted by Darren | 11:37 AM
---